PLEASE NOTE
Books must show: IN STOCK at your desired location for same day pick-up in stores. We recommend calling stores that show low stock numbers.
The Girl Who Fell from the Sky (Compact Disc)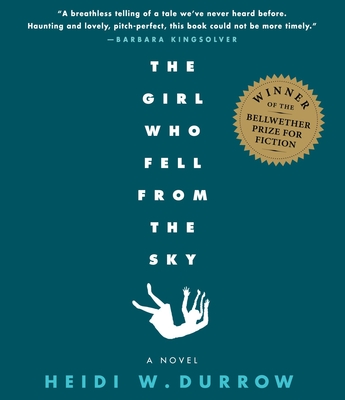 $29.95
Usually Ships in 1-5 Days
February 2010 Indie Next List
---
"The child of a black G.I. father and Danish mother, Rachel never felt that she had to choose between her parents until a tragic event leads her to live with her black grandmother. In this new setting, she discovers that she doesn't measure up to others' standards of 'blackness,' but she's not 'white' either. Durrow's deft portrait of Rachel's struggles to figure out who she is and where she belongs are a resonant reminder of the stereotypes that are perpetuated, often despite the best intentions."
— Sandy Scott, The Galaxy Bookshop, Hardwick, VT
November 2010 Indie Next List
---
"Rachel is a girl with a tragic secret, thrust from her home to live with a distant grandmother she doesn't know. Struggling to overcome her sorrows, she tries to make sense of a new racial identity she didn't know she possessed. In doing so, she strives to find her own sense of self, defined neither by the rigid structures of her grandmother nor those of an increasingly volatile society. An outstanding, original new voice in fiction."
— Emily Crowe, Odyssey Bookshop, South Hadley, MA
Description
---
A timely and moving bicultural coming-of-age tale, based on a true story and told by an author who has struggled with the same issues as her protagonist.The daughter of a Danish immigrant and a black G.I., Rachel survives a family tragedy only to face new challenges. Sent to live with her strict African-American grandmother in a racially divided Northwest city, she must suppress her grief and reinvent herself in a mostly black community. A beauty with light brown skin and blue eyes, she attracts much attention in her new home. The world wants to see her as either black or white, but that's not how she sees herself.Meanwhile, a mystery unfolds, revealing the terrible truth about Rachel's last morning on a Chicago rooftop. Interwoven with her voice are those of Jamie, a neighborhood boy who witnessed the events, and Laronne, a friend of Rachel's mother. Inspired by a true story of a mother's twisted love, The Girl Who Fell from the Sky reveals an unfathomable past and explores issues of identity at a time when many people are asking Must race confine us and define us? Narrated by an ensemble, with Emily Bauer (Rachel), Kathleen McInerney (Nella), and Karen Murray (Jamie, LaRone, Brick, Roger).
About the Author
---
Heidi W. Durrow has won the Lorian Hemingway Short Story Competition and the Chapter One Fiction Contest. She has received grants from the New York Foundation for the Arts, the American Scandinavian Foundation, and the Lois Roth Endowment and a Fellowship for Emerging Writers from the Jerome Foundation. Her writing has been published in "Alaska Quarterly Review", the "Literary Review", and others.


Local writer Karen Murray was transplanted to Quincy in 1996. She relied on the archives of the Quincy Valley Historical Society, the Quincy Valley Post Register, and private collections to compile this pictorial history of the people, places, and events that have shaped the Quincy Valley.

Emily Bauer is an award-winning voiceover actress who has read for dozens of popular audiobooks for children and adults, including Margery Williams s "Velveteen Rabbit", Meg Cabot s "Insatiable, "and Ann Aguirre s "Enclave". Her film credits include "Mona Lisa Smile" and "Long Distance". She has done voiceovers for "Nausicaa of the Valley of the Wind "and "Pokemon" and has voiced scores of TV and radio commercials as well as cartoons, talking toys, and video games. She lives in New York.