PLEASE NOTE
Books must show: IN STOCK at your desired location for same day pick-up in stores. We recommend calling stores that show low stock numbers.
Julie Black Belt: The Kung Fu Chronicles (Hardcover)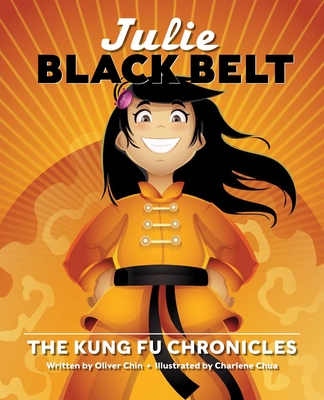 This Book Is Not Sold Online - In Store Special Order Only
Description
---
"The exuberant digital illustrations show Julie's journey from enthusiastic beginner to struggling novice to poised and confident student who earns her yellow belt...youngsters interested in the sport will be thrilled to follow Julie's adventures. Other readers may also learn something from Julie's determination to meet her goals." --School Library Journal
"Practice makes perfect. That's what Julie learns in her beginning kung fu class along with lessons about dedication and determination. (She thinks getting a black belt will be a snap.)...a high-action story that encourages deep reflection despite the action movie look." --San Francisco Chronicle
"Here's another book that is perfect if you want to get younger children into comics. Plus it's a positive story for female readers, an audience that is never given enough attention...It's a positive tale that encourages hard work and persistence and it's entertaining and charming to boot." --Ain't It Cool News
When Julie takes a kung fu class, she thinks getting a black belt will be easy. But her bold teacher says guess again As reality doesn't match her expectations, Julie wonders, what would her matinee idol Brandy Wu do?
Can Julie take her lessons to heart? Only then can this "white belt" pass her next test to show her brother, parents, and heroine this sport's true spirit.
Julie is a refreshing female character whom children everywhere can identify with. Created before "Kung Fu Panda" and the new "Karate Kid" film, Julie displays what real kid power is
"Idolizing the movie actress Brandy Wu, Julie confidently accepts her parents' offer to enroll in a kung fu class in Oliver Chin's delightful "Julie Black Belt: The Kung Fu Chronicles." But getting a black belt won't be easy since her teacher says every beginner must start with a white one. Julie wonders what her big screen idol would do...Find out through Charlene Chua's lively illustrations in this engaging and empowering read." - "Audrey" Magazine
"Evocative of graphic novels, the illustrations will catch readers' attention. They portray the range of emotions that Julie and the other characters experience and also present the characters in 'action shots, ' which will appeal to younger readers and draw them into the story. Many of the illustrations are mid-action sequences that will give readers the impression that they are watching a movie instead of reading a book with static pictures." - CM magazine.
About the Author
---
Oliver Chin is a cartoonist, writer, and public speaker. A publishing professional (Simon & Schuster, IDG, Alibris), he has sold and marketed New York Times #1 children's picture book best-sellers and anime and manga such as Pokemon, Dragon Ball Z, and Mobile Suit Gundam. A Harvard graduate in Social Studies, he is married with one son.


Praise For…
---
"I recommend this book. The characters' constant state of motion adds excitement to the story. The kung fu classes are filled with male and female racially diverse students, and their cartoon-like appearance will appeal to children. When children read Julie's story they will understand how important and beneficial it can be to keep going despite difficulties. Julie's tireless effort and enthusiastic attitude create a positive ending to this story." - Resource Links

This is a great book for girls (or boys!) who are interested in martial arts. The message is practice and hard work get results and that applies to most things in life." - PinkwithSparkles

With art by Charlene Chua, Julie Black Belt features a girl who decides that with a little hard work, kung fu can be fun." Super Punch

the illustrations are so bright and vivid, younger kids may enjoy the story anyway. Charlene Chua definitely does a great job. There are lots of nice details while keeping everything simple and clean. The martial arts seem to be very popular these days; there's probably 3 or 4 studios in our little town. So, if your little one is interested, or if you're looking to get your child interested, this book might be perfect for you." - SuperCoolBaby

Finding a female Asian heroine in a children's book is a pleasant surprise... Parents struggling to instill values in their children will appreciate the persevering young heroine who forgets external rewards while focusing on internal goals. The illustrations, reminiscent of The Incredibles' animated film, are bright and crisp. Take a look at this book. You might even see yourself in Julie." - Nichibei Times

I recommend this book. The characters' constant state of motion adds excitement to the story. The kung fu classes are filled with male and female racially diverse students, and their cartoon-like appearance will appeal to children. When children read Julie's story they will understand how important and beneficial it can be to keep going despite difficulties. Julie's tireless effort and enthusiastic attitude create a positive ending to this story."
Paper Tigers

Oliver Chin's story moves at a fast enough pace to keep children engaged while still managing to show the different stages Julie goes through in finally earning her yellow belt. Charlene Chua's bright colors and animated illustrations of Julie practicing different skills are fun to look at. Julie Black Belt is a story about perseverance and serves as a great example to teach children how working hard pays off." Northwest Asian Weekly