The Museum of Intangible Things (Hardcover)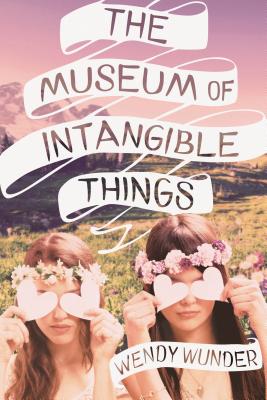 This Book Is Not Sold Online - In Store Special Order Only
Staff Reviews
---
Wunder's Probability of Miracles is one of my
favorite books of all time. Her ability to capture the fleeting,
ephemeral quality of youth is both beautiful and devastating. Museum of Intangible Things
focuses on Hannah and Zoe, two best friends who are complete opposites.
Hannah is sensible, hard-working, and "average" in the looks
department. She owns her own hot dog cart, peddling sausages by the
highway or at soccer games to the locals. Her parents are divorced, her
father is an alcoholic, and her mother is manic-depressive. Zoe is
bipolar. She's creative, beautiful, sensitive, carefree, and completely
unstable. After something terrible happens to Zoe at a party, she drags
Hannah on a road trip across the country. Along the way Zoe teaches
Hannah how to truly live. Museum of Intangible Things is
heartbreaking and real. I dare to say Wendy Wunder is my favorite
contemporary author and she truly amazes me with everything she writes.
— Anna from Books Inc. Palo Alto
Description
---
Loyalty. Envy. Obligation. Dreams. Disappointment. Fear. Negligence. Coping. Elation. Lust. Nature. Freedom. Heartbreak. Insouciance. Audacity. Gluttony. Belief. God. Karma. Knowing what you want (there is probably a French word for it). Saying "Yes." Destiny. Truth. Devotion. Forgiveness. Life. Happiness (ever after).
Hannah and Zoe haven t had much in their lives, but they ve always had each other. So when Zoe tells Hannah she needs to get out of their down-and-out New Jersey town, they pile into Hannah's beat-up old Le Mans and head west, putting everything their deadbeat parents, their disappointing love lives, their inevitable enrollment at community college behind them.
As they chase storms and make new friends, Zoe tells Hannah she wants more for her. She wants her to live bigger, dream grander, aim higher. And so Zoe begins teaching Hannah all about life's intangible things, concepts sadly missing from her existence things like "audacity," "insouciance," "karma," and even "happiness."
An unforgettable read from the acclaimed author of "The Probability of Miracles," "The Museum of Intangible Things" sparkles with the humor and heartbreak of true friendship and first love.
About the Author
---
Wendy Wunder is the author of "The Probability of Miracles," which was called beautiful in a starred review from "Kirkus" and a graceful balance of comedy and tragedy by "Publishers Weekly." When she s not writing or spending time with her family, she teaches yoga in Boston. Like her on Facebook and follow her on Twitter at www.twitter.com/wendywunder."
Praise For…
---
Praise for The Museum of Intangible Things

"A crisp, beautifully crafted story of adventure, love, and the limits of friendship…" –Booklist (Starred Review)

"A finely crafted blend of heartbreak and humor…" –Kirkus

"Hannah's fluid narration will keep the pages turning until the novel's complex and bittersweet conclusion." -SLJ
 
"…beautifully explored…highly entertaining…Hand this to (girly) fans of Steven Chbosky." -VOYA

"A cast of well-rounded and memorable characters and a realistic perspective on mental illness make for a thought-provoking story." –PW

"Zoe is a complex character who in addition to being bipolar is also intelligent, loyal, and funny. Tragically, however, it's Zoe's illness that brings this outstanding novel—and an inspiring friendship—to a heartbreaking but inevitable conclusion." –Horn Book

"Nobody writes true, messy, gorgeous friendship like Wendy Wunder. The Museum of Intangible Things is wrenching and real."
--Katie Cotugno, author of How to Love
 
"The Museum of Intangible Things is the best kind of joyride: exhilarating and hilarious and full of heart. A must-read for anyone who has ever had - or longed for - a true best friend." 
--Alexandra Coutts, author of Tumble and Fall