Virals (Hardcover)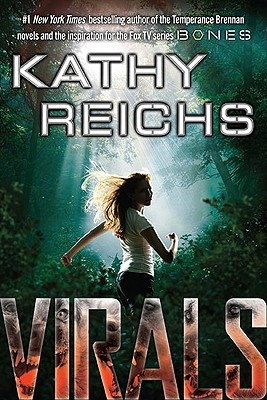 $17.99
Usually Ships in 1-5 Days
November 2010 Indie Next List
---
"Kathy Reichs, well known in the adult world for her Temperance Brennan mysteries, has given Dr. Brennan a niece! Tory is smart, intuitive, and psyched to get to the bottom of the mystery surrounding Coop, the wolf-dog. When her friends start manifesting some dog-like tendencies after being exposed to an experimental virus, the race for answers gets even scarier. This fast-paced adventure takes some unusual twists and keeps the reader turning the pages."
— Margaret Brennan Neville, The King's English, Salt Lake City, UT
Description
---
Tory Brennan, niece of acclaimed forensic anthropologist Temperance Brennan (of the "Bones" novels and hit TV show), is the leader of a ragtag band of teenage "sci-philes" who live on a secluded island off the coast of South Carolina. When the group rescues a dog caged for medical testing on a nearby island, they are exposed to an experimental strain of canine parvovirus that changes their lives forever.
As the friends discover their heightened senses and animal-quick reflexes, they must combine their scientific curiosity with their newfound physical gifts to solve a cold-case murder that has suddenly become very hot-if they can stay alive long enough to catch the killer's scent.
Fortunately, they are now more than friends- they're a pack. They are "Virals."

About the Author
---
Kathy Reichs is the author of eighteen "New York Times" bestselling novels featuring forensic anthropologist Temperance Brennan. Like her protagonist, Reichs is a forensic anthropologist one of fewer than one hundred ever certified by the American Board of Forensic Anthropology. A professor in the Department of Anthropology at the University of North Carolina at Charlotte, she is a former vice president of the American Academy of Forensic Sciences and serves on the National Police Services Advisory Council in Canada. Reichs s own life, as much as her novels, is the basis for the TV show "Bones", one of the longest-running series in the history of the FOX network.