Zipper Mouth (Paperback)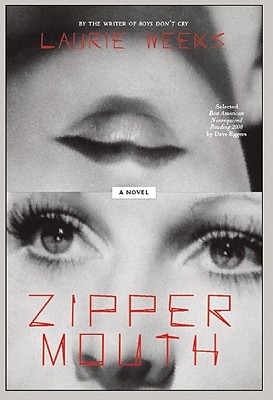 This Book Is Not Sold Online - In Store Special Order Only
Description
---
The long-awaited debut novel from Laurie Weeks, whose work was recently selected by Dave Eggears for Best Non-Required Reading 2008

In this extraordinary, often hilarious debut novel—a portion of which was selected for Best American Nonrequired Reading 2008—an unnamed girl struggles on desperately limited means to show up for the demands of doing the laundry, recreational drug abuse, and battling the obsession of an unrequited love in the lurid downtown New York City art scene of the 90's. With comic randomness, an alternating erotic current pulls the reader through the semiautobiographical boredom of temp job scenarios, painful hangovers, ranting letters to celebrities like Judy Davis and Sylvia Plath, and nightclubbing epiphanies, all shot through with glimpses of a small town childhood, its isolation fraught with an intense crush on Vivien Leigh and night terrors featuring The Crazy Dad. A doomed fixation on a straight friend, with its attendant frustration and humiliation, forms the structuring theme running through this unforgettable novel.

Laurie Weeks' fiction and essays have appeared in such publications as Vice, The Baffler, Nest, Index,Art on Paper, Out, LA Weekly, and Mirage/period[ical], among others. Her stories have appeared in several anthologies, among them Semiotext(e)'s best-selling The New Fuck You: Adventures in Lesbian Reading and most recently, The Best American Nonrequired Reading 2008.
About the Author
---
Weeks has been published in Vice, The Baffler, Index, Art on Paper, Out, The LA Weekly, among others. Her stories have been anthologized in Semiotext(e)'s bestselling The New Fuck You: Adventures in Lesbian Reading and most recently, The Best American Non