Springboard: Launching Your Personal Search for Success (Paperback)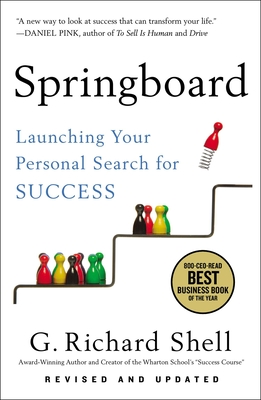 $16.00
Usually Ships in 1-5 Days
Description
---
Wharton professor Richard Shell created theSuccess Course to help his world-class MBAstudents answer two questions that aren t asobvious as they seem: What, for me, is success? and How will I achieve it?

Based on that acclaimed course, "Springboard"shows how to assess the hidden influencesof family, media, and culture on your beliefsabout success. Then it helps you figure out yourunique passions and capabilities, so you canfocus more on what gives meaning and excitementto your life, and less on what you are supposed to want.
About the Author
---
G. Richard Shell is director of the Wharton Executive Negotiation Workshop at the Wharton School, where he is professor of legal studies, business ethics and management. His previous book is the award-winning "Bargaining for Advantage,"
Mario Moussa is a faculty member at the Wharton School and a principal of CFAR Inc., a management consulting firm.
Praise For…
---
"Springboard is our pick for Business Book of the Year, the one we believe best helps those in business define success and achieve it. [It is] an even handed, well researched, and thoroughly humanistic book [that] needs to find a home on the shelves—and in the hearts and minds—of anyone who wants to be more successful." 
—800CEOREAD, Winner of the 2013 Best Business Book of the Year

"A new way to look at success that can transform your life." —Daniel Pink, author of Drive

"His outstanding book on achieving success has exactly what this kind of examination needs, common sense and encouragement." —Booklist