PLEASE NOTE
Books must show: IN STOCK at your desired location for same day pick-up in stores. We recommend calling stores that show low stock numbers.
Getting Unstuck (Compact Disc)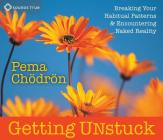 $24.95
Usually Ships in 1-5 Days
Description
---
Have you ever had an itch and not scratched it? In the Buddhist tradition, this points to a vast paradox: that by refraining from our urge to scratch, great peace and happiness is available.
On "Getting Unstuck," Pema Chodron introduces a rare Tibetan teaching she received from her teacher, Dzigar Kontrul Rinpoche, and one that has become critical to her practice. Here, she unveils the mystery of an ineffable quality: a pre-emotional feeling that arises in us, brings us discomfort, and causes us to react by escaping the discomfort often with harmful habits.
With "Getting Unstuck," she offers us a first look at both the itch and the scratch, which Tibetan Buddhists call "shenpa." On this full-length recording, Pema Chodron, bestselling author and beloved American Buddhist nun, shows us how to recognize shenpa, catch it as it appears, and develop a playful, lively curiosity toward it. Join Pema Chodron to discover more about: Critical mind how to recognize this fundamental shenpa, and approach yourself and others with a sense of humor and loving-kindnessWays to unravel the patterns of self-denigration, and develop the fundamental "maitri" loving-kindness toward yourselfHow to cultivate acceptance of your irritability, insecurities, and other simply human traitsRecognition, Refrain, Relaxing, and Resolve: the four R's of working with shenpa, and more
An urge comes up, we succumb to it, and it becomes stronger, teaches Pema Chodron. We reinforce our cravings, habits, and addictions by giving in to them repeatedly. On "Getting Unstuck," Chodron guides us through this sticky feeling, exploring the moments when we get hooked, and offers us tools for learning to stay with our uneasiness, soften our hearts toward ourselves and others, and live a more peaceful life in the fullness of the present moment.
About the Author
---
Pema Chodron_ is an American-born Buddhist nun and the author of many spiritual classics, including When Things Fall Apart (Shambhala, 2002), The Places that Scare You (Shambhala, 2004), and Taking the Leap (Shambhala, 2009). She serves as resident teacher at Gampo Abbey Monastery in Nova Scotia and is a student of Dzigar Kongtrul and the late Chogyam Trungpa. See pemachodronfoundation.org.