You Are Here: Discovering the Magic of the Present Moment (Hardcover)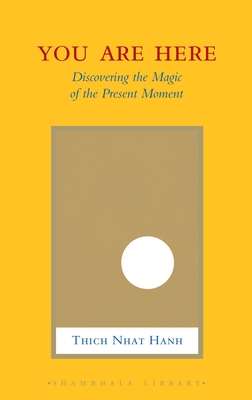 $18.95
Usually Ships in 1-5 Days
Description
---
This moment is the gateway to enlightenment. It is the only moment we have to be joyful, mindful, and awake. The key is to be there for yourself to learn to be fully present in your life. This, Thich Nhat Hanh explains, is the heart of Buddhist practice.
In this introduction to the practice of presence, the beloved Buddhist teacher provides indispensable insight on the essentials of Buddhist thought and offers a range of simple, everyday practices for cultivating mindfulness. These teachings empower us to witness the wonder of life and transform our suffering, both within us and around us, into compassion, tenderness, and peace not in some long and hard struggle, but in this very moment. As Thich Nhat Hanh declares, the energy of mindfulness is the energy of the Buddha, and it can be produced by anybody. It's as simple as breathing in and breathing out.
About the Author
---
Thich Nhat Hanh is a Vietnamese Buddhist Zen master, poet, scholar, and peace activist who was nominated for the Nobel Peace Prize by Dr. Martin Luther King Jr. He is the author of many bestselling books, including the classics Peace Is Every Step, Fear, and The Art of Power. Hanh lives in Plum Village, his meditation center in France, and leads retreats worldwide.

Melvin McLeod is the editor-in-chief of two of America's leading Buddhist magazines, "Buddhadharma: The Practitioner's Quarterly" and "Shambhala Sun", and is the editorial director of "Mindful" magazine. McLeod has edited three books of teachings by Thich Nhat Hanh and is the series editor for "The Best Buddhist Writing" series. He lives in Dartmouth, Nova Scotia.

Sherab Chodzin Kohn has been teaching Buddhism and meditation worldwide since 1973. A close student of the Tibetan meditation master Chogyam Trungpa, he has edited several of Trungpa Rinpoche's books. He lives in Boulder, Colorado.
Praise For…
---
"Thich Nhat Hanh shows us the connection between personal inner peace and peace on earth."—His Holiness the Dalai Lama

"Thich Nhat Hanh writes with the voice of the Buddha."—Sogyal Rinpoche, author of The Tibetan Book of Living and Dying