Alexander Vvedensky: An Invitation for Me to Think (Paperback)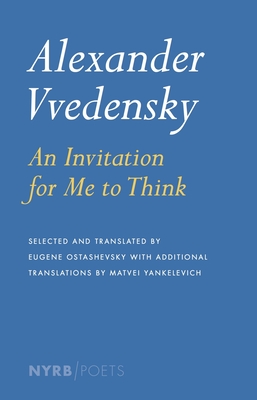 $12.95
Usually Ships in 1-5 Days
Description
---
"Pussy Riot are Vvedensky's disciples and his heirs.
      Katya, Masha, and I are in jail but I don't consider that we've been defeated.... According to the official report, Alexander Vvedensky died on December 20, 1941. We don't know the cause, whether it was dysentery in the train after his arrest or a bullet from a guard. It was somewhere on the railway line between Voronezh and Kazan. His principle of 'bad rhythm' is our own. He wrote: 'It happens that two rhythms will come into your head, a good one and a bad one and I choose the bad one. It will be the right one.' ... It is believed that the OBERIU dissidents are dead, but they live on. They are persecuted but they do not die."
  — Pussy Riot [Nadezhda Tolokonnikova's closing statement at their
trial in August 2012]

"I raise[d] my hand against concepts," wrote Alexander Vvedensky, "I enacted a poetic critique of reason." This weirdly and wonderfully philosophical poet was born in 1904, grew up in the midst of war and revolution, and reached his artistic maturity as Stalin was twisting the meaning of words in grotesque and lethal ways. Vvedensky—with Daniil Kharms the major figure in the short–lived underground avant-garde group OBERIU (a neologism for "the union for real art")—responded with a poetry that explodes stable meaning into shimmering streams of provocation and invention. A Vvedensky poem is like a crazy party full of theater, film, magic tricks, jugglery, and feasting. Curious characters appear and disappear, euphoria keeps company with despair, outrageous assertions lead to epic shouting matches, and perhaps it all breaks off with one lonely person singing a song.

A Vvedensky poem doesn't make a statement. It is an event. Vvedensky's poetry was  unpublishable during his lifetime—he made a living as a writer for children before dying under arrest in 1942—and he remains the least known of the great twentieth-century Russian poets. This is his first book to appear in English. The translations by Eugene Ostashevsky and Matvei Yankelevich, outstanding poets in their own right, are as astonishingly alert and alive as the originals.
About the Author
---
Born in 1904 in Saint Petersburg, Alexander Vvedensky's move into the Russian avant-garde came through his appointment to the State Institute of Artistic Culture, where with the writer Danill Kharms, he developed the neologist poetry associated with the OBERIU movemnt, (The Union of the Real Art). Sentenced to internal exile, he died on a train to prison in 1941.

Originally from Leningrad, after a Brooklyn-based adolescence Eugene Ostashevsky went west, performed poetry, got a Ph.D., and helped found 9x9 industries in San Francisco, then came back to New York by way of Turkey. Eugene's poems have appeared or are forthcoming in Best American Poetry 2005, JUBILAT, FENCE, Boston Review and other magazines. His translations of Alexander Vvedensky and Nikolai Zabolotsky have appeared in American Poetry Review, CONJUNCTIONS and elsewhere. He is the editor of OBERIU: An Anthology of Russian Absurdism from Northwestern University Press. He is also the author of INFINITE RECURSOR OR THE BRIDE OF DJ SPINOZA, a collaboration with artist Eugene Timerman, also available from Ugly Duckling Presse here. He teaches at NYU.

Matvei Yankelevich was born in 1973 in Moscow, USSR, from where his family emigrated to the Boston area in the late 1970s. He is the author of SOME WORLDS FOR DR. VOGT (Black Square Editions, 2015), ALPHA DONUT (United Artists Books, 2012), BORIS BY THE SEA (Octopus Books, 2009), and several chapbooks: Writing in the Margin (Loudmouth Collective, 2001), The Present Work (Palm Press, 2006), The Nature Poetry of Matvei Yankelevich (Knock-Off, 2010), and Bending at the Elbow (Minutes Books). Yankelevich is a widely published translator of Russian poetry; his translations of the eccentric early 20th Century writer Daniil Kharms have appeared in many journals, including Harpers, The New Yorker, and NEW AMERICAN WRITING, and were collected in Today I Wrote Nothing: The Selected Writings of Daniil Kharms (Overlook, 2007; Ardis/Overlook paperback, 2009). He has taught at the Russian Department of Hunter College, Columbia University School of the Arts, and the Milton Avery Graduate School of the Arts at Bard College. He is a member of the volunteer editorial collective of Ugly Duckling Presse, a nonprofit publisher based in Brooklyn, New York.
Praise For…
---
"Unlike the Symbolists, his aim is neither to create an aesthetic paradise nor to suggest or build a bridge to another world—Vvedensky's is an aesthetics of martyred aesthetics, of not knowing, of the defeat of 'poetry' in the service of truth.... His poetic sensibility combines the Russian Symbolist concern for transcendence, God, and 'other worlds,' with the Futurist orientation toward syntactical and semantic deformations that draw attention to the artifices of language." — Thomas Epstein, The New Arcadia Review
 
Praise for OBERiU: An Anthology of Russian Absurdism, edited by Eugene Ostashevsky:

"Vvedensky's poems sear.... Ruminations on faith and loss abound, but there are few
more churning, lacerating and willfully beautiful works in Eastern literature than
the prose poem "Frother," in which three sons hover and cavort around their dying
father, trying to ascertain the meaning of a mysterious word and a mysterious truth."—The Nation

"[OBERIU] mounted a challenge in the late 1920s and 30s to 'worldly logic' by questioning and confusing the most basic categories through which the world may be rendered coherent and transformed into narrative. They did so by writing subversive poems and stories, while 'trusting in neither thoughts nor words' (Alexander Vvedensky). They practised a kind of silence through words, wearing various comic masks while pointing to inexpressible realities." —The Times Literary Supplement

"The work of Oberiu is as relevant to our moment as when it was written." —The Believer

"It's about time . . . the Oberiu . . . became a household name like the Surrealists, Dadaists and all the rest." —The Brooklyn Rail

"Oberiu is as relevant today as ever." —Bookforum

"For anyone intersted in Soviet literature, this book fills an enormous gap. It also presents some beautiful, heartbreaking poetry." —PW Annex

"Highly recommended. All readers, all levels." —CHOICE

Praise for Vvedensky's The Gray Notebook, published by Ugly Duckling Presse:
 
"These poems do what solid poems should.  They stand against time."  — Peter Moysaenko, bomblog

General praise regarding the movement Vvedensky started (OBERIU):
 
"The OBERIU writers are a revelation, an aspect of Russian modernism in the early Soviet period that has been largely invisible to readers in English."  —Robert Hass
 
"OBERIU, sometimes called Russia's last avant-garde, is one of the most intriguing--and little known--movements of the years before World War II. The absurdist poets at its center—Alexander Vvedensky, Daniil Kharms, and Nikolai Zabolotsky—belonged to the first generation of writers to come of age after the October Revolution . . .  Less interested in coining neologisms than in destroying the protocols of semantic coherence and linguistic realism, these poets have produced a series of inventive, free-wheeling, and often hilarious poetic texts in a variety of forms and genres." —Marjorie Perloff