A16: Food + Wine (Hardcover)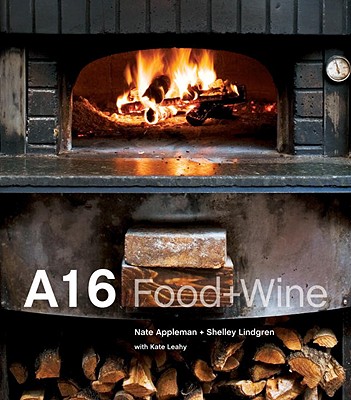 $35.00
Available - Click Title to See Store Inventory. Books must show IN STOCK at your desired location for same day pick-up.
Description
---
A cookbook and wine guide celebrating the traditions of southern Italy, from the country's top southern Italian restaurant, in San Francisco.
At San Francisco's acclaimed A16 restaurant (named for the highway that cuts across southern Italy), diners pack the house for chef Nate Appleman's house-cured salumi, textbook Naples-style pizzas, and gutsy slow-cooked meat dishes. Wine director Shelley Lindgren is renowned in the business for her expeditionary commitment to handcrafted southern Italian wines. In A16: FOOD + WINE, Appleman and Lindgren share the source of their inspiration the bold flavors of Campania. From chile-spiked seafood stews and savory roasts to delicate antipasti and vegetable sides, the recipes are beguilingly rustic and approachable. Lindgren's vivid profiles of the key grapes and producers of southern Italy provide vital context for appreciating and pairing the wines. Stunning photography captures the wood-fired ambiance of the restaurant and the Campania countryside it celebrates.
About the Author
---




Ryan Farr is a chef, entrepreneur, butcher, butchery teacher, and the founder of 4505 Meats. He lives in San Francisco.
Praise For…
---
"Savvy diners focus on the kitchen's soulful renditions of dishes from Campania, the region surrounding Naples, and a wine list that brims with discoveries from southern Italy. Sure, have a bit of pizza, but save room for dishes such as roasted porcini with green garlic, ricotta gnocchi with squash blossoms, or sweet pea ravioli with braised pork, pecorino, and black pepper."-Wine Spectator Reviews & Awards IACP International Association of Culinary Professionals Cookbook Awards, First Book/Julia Child Award Category Finalist

 "This is a cook's cookbook; it deserves a quiet season filled with long chilly nights, the ideal time to enjoy its gutsy dishes."–Gourmet  

"A book you really can cook and learn from."–Fine Cooking  "A testament to the rustic fare and a convivial atmosphere of the restaurant."–San Francisco Chronicle

"Fascinating reading for lovers of Italian food and wine."–Publishers Weekly *Starred Review*