Yogalosophy: 28 Days to the Ultimate Mind-Body Makeover (Paperback)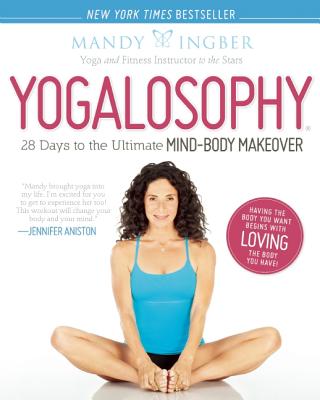 $20.00
Usually Ships in 1-5 Days
Description
---
Jennifer Aniston. Kate Beckinsale. Helen Hunt. Brooke Shields. In addition to their fame, these actresses share something else in common: they owe their enviable silhouettes to fitness expert and celebrity yoga instructor Mandy Ingber.
In "Yogalosophy(r)," Ingberone of the most sought-after fitness and wellness advisors in Los Angelesoffers up a unique 28-day plan to help readers achieve healthier bodies and happier minds. Building on the concepts offered in Ingber's popular "Yogalosophy(r)" DVD, this handbook provides an accessible program of proven workouts and eating guidelines designed to tone and strengthen the entire body, inside and out.
In addition to recipes and detailed body-sculpting workouts (which combine yoga postures with a wide range of other effective exercises), Ingber also offers up wise insights and thought-provoking anecdotes in each chapter, encouraging readers to establish a healthier, more life-embracing mindset. Full of girlfriend-y wisdom, "Yogalosophy(r)" is a realistic, flexible, daily plan that will help readers transform their minds, their bodies, and their lives.
About the Author
---
Mandy Ingber was an up and coming actress when a series of misfortunes disrupted her life: her parents divorced; her friend and colleague, Rebecca Schaeffer, was murdered; she was severely beaten in a random assault; and her father died. All of this led her to question what she really wanted out of life and how she wanted to contribute to the world. She fell back on the things that had fed her growing up the yoga her father had taught her; a passion for music, art, astrology, psychology, philosophy; and above all a love of movement in any form. Her friend and instructor, Bob Harper (now known to millions for his role on The Biggest Loser), told her that she had a natural ability to motivate others and encouraged her to become a fitness instructor. Soon after, Ingber began teaching spinning and yoga in Los Angeles. Her classes were packed and became a must for those serious about their fitness.
Praise For…
---
"Mandy brought yoga into my life. I'm excited for you to get to experience her, too! This workout will change your body and your mind." Jennifer Aniston (Actress, director, producer)

Mandy brings her understanding, skill, compassion and humor into my home along with her yoga mat and great music. I love Mandy and I love her yoga. And my husband is very pleased with what it has done for my behind, on a completely shallow note." Kate Beckinsale (Actress)

Mandy Ingber brings joy, humor, and self-love into your workout. She's the best." Helen Hunt (Academy Award-winning actress)

I find Mandy's words inspiring and her choice of music is perfect to make me forget that I am dying from overexertion. She's the world's best spinning teacher, who brings me humor while she kicks my ass." Ricki Lake (TV talk show host, author)

I'm a girl who never worked out, in fact, I never liked it at all. But somehow with Mandy, I can't wait for my workouts. Even throughout my pregnancy when I was huge and lazy, I still looked forward to the days when we walked and stretched. I started out (pre-pregnancy) doing spinning with Mandy, then yoga. I can't explain how much I adore Mandy, personally, and what she has done for my body. I attribute her workouts to my simple easy wonderful birth of my daughter. My body was prepared and ready." Jennifer Meyer Maguire (Jewelry designer, mother, daughter, wife, sister, friend)

"Since starting my yoga practice with Mandy, my body has toned and I've lost inches. I feel great and very strong, physically. But more than that, her teachings relay the importance of the mind/body connection and acceptance of self which has made a huge impact on me. Mandy has changed my life." Siobhan Schanda (Chelsea Lately producer)