Inspiration for a Lifetime: Words of Wisdom, Delight, and Possibility (Paperback)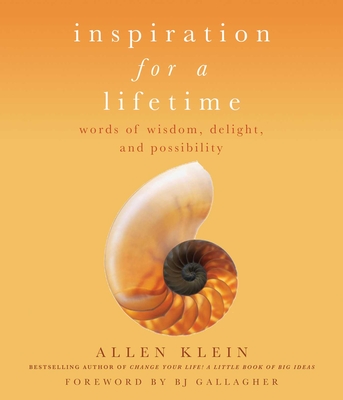 $14.95
Usually Ships in 1-5 Days
Description
---
Are the kids driving you crazy? Are you facing a challenge? Are money matters uppermost in your mind? Perhaps you're experiencing travel troubles, or technology is about to drive you over the edge. Just open this book to your stress of the moment, and let laughter erase your tension. Categorized by stress-related themes (such as "Kids," "Jobs," "Spouses," even "Modern Technology"), just the right quote to amuse and inspire may be found at a moment's anxiety. Motivational speaker Allen Klein has compiled hundreds of positive passages from notable figures from Plato to Dolly Parton, Shakespeare to Jerry Seinfeld, and Walt Whitman to Oprah Winfrey. Inspiration for a Lifetime is the ultimate motivating, encouraging, and uplifting book to enjoy and share these very wise words and affirmative sayings have the power to touch our hearts, make us laugh, alleviate our stress, while realizing the vast potential life has to offer.
About the Author
---
Allen Klein is an award-winning professional speaker and author. His books "Quotations to Cheer You Up When the World is Getting You Down" and "The Lift Your Spirits Quote Book" have sold over 500,000 copies. Klein lives in San Francisco.

BJ Gallagher is an accomplished management consultant, a popular speaker, and the prolific author of thirty books, including Being Buddha at Work and Yes Lives in the Land of No. She spent five years as the manager of training and development for the Los Angeles Times prior to founding her own human resources consulting company.
Praise For…
---
"I�ve always loved inspiring quotes�they provide timeless
wisdom, previous pearls of encouragement and hope.
The right quote at the right time can make the difference
between a day of despair and a day of delight. It�s funny
how just a few words�uttered or written by someone
you�ve never met�can have such a big impact.
Words are powerful; words create worlds; words
provide nourishment for the psyche and sustenance for
the soul. Words can warm our hearts. . .or move us to
tears. Words can fire us up to take on the world. . .or calm
us down when we�re stressed or distressed.
In this book, Inspiration for a Lifetime, Allen Klein
has gathered a marvelous collection of words to live by,

inspiration for a lifetime
words to love by, words to laugh by. I�m delighted that some
of my favorites are included�and happy to discover some
new quotes I�d never seen before. This book is a veritable
feast of fine inspiration. Dig in!"

From the foreword by BJ Gallagher, author of It's Never Too Late to Be What You Might Have Been, and