The Courage Companion: How to Live Life with True Power (Paperback)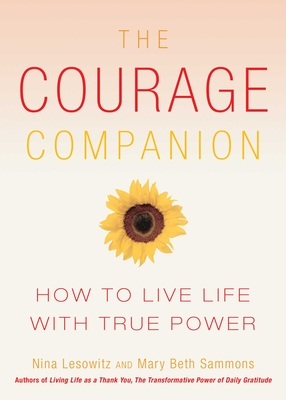 $15.95
Usually Ships in 1-5 Days
Description
---
Life shrinks or expands in proportion to one's courage." Anais Nin

Looking for the confidence to face life's challenges? Feeling the need for new inspiration and adventure? Do you know what it takes to be really brave? Courage comes by taking action before we are forced to do so. And in the words of Eleanor Roosevelt: We gain strength, and courage, and confidence by each experience in which we really stop to look fear in the face...we must do that which we think we cannot."

Courage, also known as bravery, will, and fortitude, is the ability to confront fear, danger, uncertainty, or intimidation. Physical courage is courage in the face of physical pain, hardship, and threat of death, while moral courage is the ability to act rightly in the face of popular opposition, shame, or discouragement.

Authors Mary Beth Sammons and Nina Lesowitz have gone to the front lines of adversity and fear to surface the brave hearts who took action before they were forced to, confronting and overcoming their fears in ways that inspire us all. From world-class athletes to spiritual teachers, to cancer patients, to ordinary people who took extraordinary action to transform their lives, these courage warriors will show you how to turn apprehension into action. Enriched with motivational quotes, expert advice, and power practices, this courage guidebook will show you how to live your life with guts and gusto.
About the Author
---
Nina Lesowitz is a gratitude practitioner and volunteer for literacy organizations. She also runs Spinergy Group, a public relations firm that represents authors and corporate clients, as well as nonprofits. The recipient of numerous awards and tributes, including a national award for excellence in media relations, Lesowitz is also the coauthor of the bestselling "The Party Girl Cookbook". She lives in Oakland

Mary Beth Sammons is an award-winning journalist and author whose work appears in "Family Circle", the "Chicago Tribune" s lifestyle section, and on various health and wellness websites. She is grateful to be welcomed into the lives of those she writes about who are experiencing the ups and downs of handling life, parenting, and caregiving. She s the author of a number of books, including "We Carry Each Other: Getting Through Life s Toughest Times"; "My Family: Collected Memories"; and" Gifts with Heart". She lives in Chicago.
Praise For…
---
"...a welcome and positive take on what lies within us once tragedy strikes. The Courage Companion is the perfect antidote to feeling lost in times of chaos and challenge."
ForeWord magazine

"With this Portland rain we all hold on to the hope that the sun will soon appear to lift our spirits. Before that sun arrives there is a way to provide your spirit with the infusion it needs. Read the book The Courage Companion: How to Live Life with True Power. A handy, compact book whose size belies the big impact its many stories hold within. These true stories of ordinary people who have acted with extraordinary courage encourage you to act with the same kind of strength."
Portland Book Review

The Courage Companion is a book I intend to keep by my bedside when I need to be reminded of all the people in the world who have exhibited extraordinary acts of bravery when faced with the every day trial of life. It's impossible to feel alone when you read this book-- you cannot help but be inspired." Lee Woodruff, author of Perfectly Imperfect: A Life in Progress, and life and family contributor for Good Morning America" on ABC-TV

"The Courage Companion is a tool chest for the realization of our truest dreams. Lesowitz and Sammons show by inspiring examples and gritty wisdom that the runway to courage lies within us, in unsuspected places, then guides us into take-off and shows us how to soar."

Alan Kaufman, author of Jew Boy

"At some point in our life, we all must summon up our courage in order to face our fearswhether those fears are from such things as having to give a speech, embarking on a new career, or facing a medical diagnosis. Yet no one tells us how to develop courage, until now and this wonderful book. In an easy-to-read format, it explains what courage is, how to get it, and provides inspiring stories from those who have it."

Allen Klein, Author of The Courage to Laugh: Humor, Hope, and Healing in the Face of Death and Dying

"Courage is all about doing the right thing at the right time for the right reason no matter how difficult. The Courage Companion is replete with such stories of courage and I highly recommend it as an enjoyable and inspiring read."

General William R. Looney, III, Retired USAF, author of Exceeding Expectations: Reflections on Leadership


This book shows all of us that one individual can make a difference, changing the course of their own lives or the lives of others through a willingness to take a stand, overcome fear, go forward and never back down."
From the foreword by Larry Cox, veteran human rights advocate and executive director of Amnesty International USA.