Random Violence (Paperback)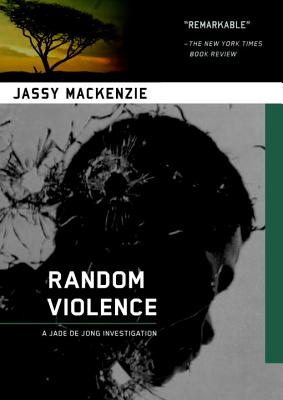 This Book Is Not Sold Online - In Store Special Order Only
Description
---
In Johannesburg prosperous whites live in gated communities; when they exit their cars to open the gates, car-jackings are common. But seldom is the victim killed, much less shot twice, like Annette Botha. Piet Botha, the husband of the wealthy woman, is the primary suspect in his wife's murder.
P.I. Jade de Jong fled South Africa ten years ago after her father was killed. Now back in town, she offers to help her father's former assistant, Superintendent David Patel, with his investigation of this case. Under apartheid, Patel, of Indian descent, could never have attained his present position. But he is feeling pressure from his "old line" boss with respect to this investigation and fears lingering prejudice is at work.
As Jade probes into this and other recent car-jacking cases, a pattern begins to emerge, a pattern that goes back to her father's murder and that involves a vast and intricate series of crimes for profit.
About the Author
---
Jassy Mackenzie was born in Rhodesia (now Zimbabwe) and moved to South Africa when she was eight years old. She lives with her partner Dion, and two horses and two cats. She enjoys traveling, cooking, cycling, and competes in dressage on her thoroughbred. She also loves the energy, danger and excitement of Johannesburg, believing there is no better place for a thriller writer to be, and wishes to share its 'terrifying, exhilarating, essence with readers across the world'. From a book-loving family where TV was banned from the house, she is the second youngest of five daughters. Her mother Ann Mackenzie was a well-known short story writer, and Jassy's sister, Vicky Jones, now living in New Zealand, is a prize-winning author of children's books. As a youngster, Jassy seemingly had an uncanny knack of choosing unsavoury boyfriends who were involved in everything from cocaine dealing to smuggling. Then, she was hijacked at gunpoint outside her home, and had her car taken from her by force. This experience led to her first novel: 'Random Violence'. She has since written several more thrillers, a 'Jade De Jong' detective series, and erotic romances. Combining her writing career with editing a 'Hair and Beauty' trade magazine, Jassy has also had numerous non-fiction articles on a wide variety of subjects published locally, and internationally, over the years.
Praise For…
---
"Complicated and tough and real."
—Boston Bibliophile

"A new generation of crime writers is trying to put apartheid and modern South Africa in focus ... [Random Violence is] a thought-provoking book."
—Portland Oregonian

"Mackenzie, who has lived in South Africa from an early age, plays her hand deftly, with a page turner of a story, intriguing characters—Jade is particularly memorable—and a wealth of South African color, including its appalling racial history. At once brutal and beautiful, Random Violence leaves nothing to chance in hooking the reader."
—Richmond Times Dispatch

"With surprising characters and an intriguing plot, you'll be guessing right up until the very end."
—Tulsa Examiner

Starred Review: "South African writer Mackenzie has created a strong female character with amazing resilience, unusual friends, and incredible luck.... Gripping."
—Library Journal

"Beautiful and haunting... Each chapter is filled with wonders and horrors masterfully told in darkly poetic prose, with absolutely no wastage of space permitted. She has created a terrific and believable P.I. in the headstrong and somewhat intimidating Jade de Jong; a P.I. we will no doubt be seeing plenty of in the future. A host of colorful and memorable characters fill the pages, alongside Jade, making this a gripping and page-turning read, despite the bleakness of place and events via post-apartheid South Africa."
—New York Journal of Books

Starred Review: "Set in contemporary South Africa, Mackenzie's triumphant debut
introduces PI Jade de Jong.... The plot has more than its fair share of nice twists, and Mackenzie does a superb job of making the reader care for her gutsy lead while offering a glimpse at life in South Africa after apartheid. Readers will wish Jade a long fictional career."
—Publishers Weekly