Moonlight Downs: An Emily Tempest Investigation (Paperback)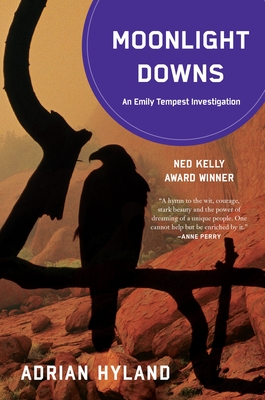 Description
---
Winner of Australia's Ned Kelly Award for Best First Novel
Beguiling . . . wonderful. "The New York Times Book Review"
A hymn to the wit, courage, stark beauty and the power of dreaming of a unique people. One cannot help but be enriched by it. Anne Perry
Impressive. "Baltimore Sun"
Hyland excels at drawing the reader into a strange, rough world. This debut novel is filled with both poetic descriptions and a great deal of wit. "Booklist"
Perfect for mystery fans who are craving new horizons. . . . An intriguing tale. "Library Journal"
Beautifully written. "Publishers Weekly"
A] colorful setting and an in-your-face heroine fetching enough to warrant a series. "Kirkus Reviews"
Emily Tempest has been away from Australia for a long time, but now she's returned to the Moonlight Downs mob, the community where she grew up, half in the Aboriginal world, half in the white. She is looking forward to a reunion with her childhood friend, Hazel, and to catching up with the rest of the group.
Within hours of her arrival, an old friend, Lincoln Flinders, the tribe's elderly leader, is murdered and mutilated. The police suspect Blakie Japanangka, a renegade aborigine sorcerer, but Emily believes that the old man was slain for worldly reasons, and she starts asking questions.
Adrian Hyland spent many years in the Northern Territory, Australia, living and working among indigenous people. He now teaches at LaTrobe University. "Moonlight Downs," published as "Diamond Dove" in Australia, is his first novel.
About the Author
---
Adrian Hyland won Australia's Ned Kelly 2007 Award for Best First Novel for Moonlight Downs. He spent many years in the Northern Territory living and working among the indigenous people. He now teaches at LaTrobe University and lives in Melbourne.