White Sky, Black Ice (Paperback)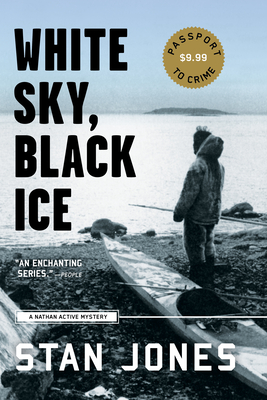 Description
---
The first Nathan Active mystery
Born to a poor Inupiat girl in Chukchi, Alaska, north of the Arctic Circle, State Trooper Nathan Active was adopted and raised by a white family in Anchorage. Now, an unwelcome job reassignment has returned him to the stark, beautiful landscape of poverty-stricken Chukchi. Two suspicious suicides in the span of a week and rumors of trouble in the village and at the local copper mine lead Active to believe there is a killer at large. As a "nalauqmiiyaaq," or someone regarded by the community as halfwhite, he must fight for every clue before the killer strikes again.
About the Author
---
This is the second Nathan Active novel. Stan Jones was born in Anchorage, where he now lives. He has been an award-winning journalist, specializing in environmental issues, and a bush pilot.

Praise For…
---
Praise for the Nathan Active series

"Robust.... Active maintains his awe of the vast Alaskan tundra, a forbidding region that Jones renders in all its bone-chilling beauty."
—The New York Times Book Review

"Trroper Active proves such an interesting and likable guide that the selfish reader can't but hope Nathan won't get that Anchorage transfer for at least a few more books."
—Wall Street Journal

"Jones captures in precise detail... the starkly individual spirit of thi village's collection of characters....His depiction of a freezing world of tarpaper houses and whaling camps is absolutely convincing."
—Houston Chronicle