Chronic (Paperback)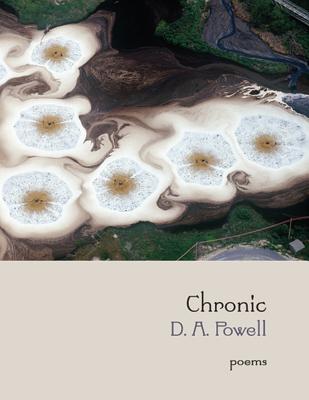 $15.00
Usually Ships in 1-5 Days
Description
---
Now in paperback, the winner of the Kingsley Tufts Poetry Award and a finalist for the National Book Critics Circle Award
"so many of the best days seem minor forms of nearness "
" that easily fall among the dropseed: a rind, a left-behind "
" " from "no picnic"
In these brilliant poems from one of contemporary poetry's most intriguing, singular voices, D. A. Powell strikes out for the farther territories of love and comes back from those fields with loss, with flowers faded, "blossom blast and dieback." "Chronic "describes the flutter and cruelty of erotic encounter, temptation, and bitter heartsickness, but with Powell's deep lyric beauty and his own brand of dark wit.
About the Author
---
D. A. POWELL is the author of Chronic (Graywolf Press, 2009); Cocktails (Graywolf Press, 2004), which was a finalist for the National Book Critics Circle Award in Poetry; Lunch (Wesleyan University Press, 2000); and Tea (Wesleyan University Press, 1998). He teaches at the University of San Francisco and lives in the Bay Area.
Praise For…
---
"D. A. Powell is one of the two or three major poets now in mid-career . . . We will still be reading D. A. Powell a long time from now, both for the record he offers of the last thirty years of American history and culture and for the new possibilities he has created for poetry. He is both accessible and challenging, saying something new, and saying it newly, with each book, yet speaking with an authority as old as poetry itself." —Craig Morgan Teicher, 2009 National Book Critics Circle Award finalist citation