More Than This (MP3 CD)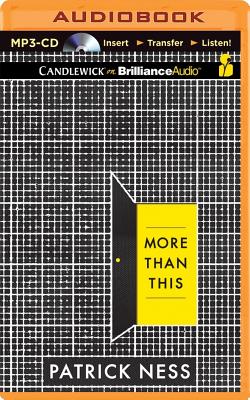 This Book Is Not Sold Online - In Store Special Order Only
Description
---
From the acclaimed author of the Chaos Walking trilogy and "A Monster Calls" comes one of the most provocative teen novels of our time.
A boy named Seth drowns, desperate and alone in his final moments. But then he wakes. He is naked, thirsty, starving. But alive. How is this possible? He remembers dying, his bones breaking, his skull dashed upon the rocks. So how is he here? And where is this place? The street seems familiar, but everything is abandoned, overgrown, covered in dust.
What's going on? Is it real? Or has he woken up in his own personal hell? Seth begins to search for answers, hoping desperately that there must be more to this life, or perhaps this afterlife.
About the Author
---
Patrick Ness is the author of eight novels and a short story collection. He's best known for his books for young adults, including the Chaos Walking trilogy and More Than This. He won the Carnegie Medal the highest award for children's books in the UK twice in a row, for Monsters of Men and A Monster Calls. A Monster Calls was also the first book ever to simultaneously win the Kate Greenaway Medal for illustration and the Carnegie Medal. Patrick has taught creative writing at Oxford University and is a literary critic for the Guardian. Born in Virginia, he lives in London.

Nick Podehl is a professional voice actor. He has narrated numerous audiobooks, many of which have won prestigious awards. He currently lives and works around Grand Rapids, Michigan, with his wife.