The Swimming-Pool Library (MP3 CD)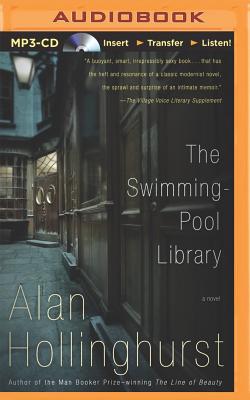 This Book Is Not Sold Online - In Store Special Order Only
Description
---
A literary sensation and bestseller in both England and America, "The Swimming-Pool Library" is an enthralling, darkly erotic novel of gay life before the scourge of AIDS; an elegy, possessed of chilling clarity, for ways of life that can no longer be lived with total impunity. Impeccably composed and meticulously particular in its observation of everything ("Harpers & Queen"), it focuses on the friendship of two men: William Beckwith, a young gay aristocrat who leads a life of privilege and promiscuity, and the elderly Lord Nantwich, an old Africa hand, searching for someone to write his biography and inherit his traditions.
About the Author
---
Ne en 1954 en Grande-Bretagne, Alan Hollinghurst a collabore au prestigieux Times Literary Supplement. Son premier roman, "The Swimming Pool Library", publie en 1988, a connu un grand succes public et critique. Couronne en 2004 par le Booker Prize, "La Ligne de beaute" est unanimement considere comme un chef-d uvre de la litterature anglaise contemporaine.

Samuel West s theater work includes "ENRON", "Hamlet" for the RSC, and starring opposite his father Timothy in "A Number". His TV credits include "Cambridge Spies", "Any Human Heart", "Eternal Law", and "Mr. Selfridge", and he has narrated many TV documentaries. Among his films are "Hyde Park on Hudson", "Van Helsing", "Iris", "Persuasion", and "Howards End". He has also directed ten plays and two operas.