Where Things Come Back (MP3 CD)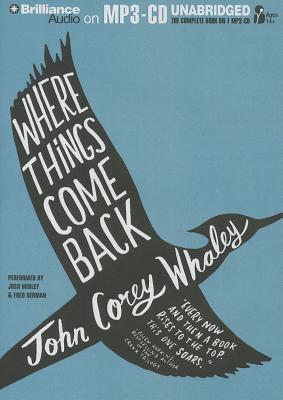 This Book Is Not Sold Online - In Store Special Order Only
Description
---
In the remarkable, bizarre, and heart-rending summer before Cullen Witter's senior year of high school, everything he thinks he understands about his small and painfully dull Arkansas town vanishes. His cousin overdoses; his town becomes absurdly obsessed with the alleged reappearance of an extinct woodpecker; and most troubling of all, his sensitive, gifted fifteen-year-old brother, Gabriel, suddenly and inexplicably disappears. As Cullen navigates a summer of finding and losing love, holding his fragile family together, and muddling his way into adulthood, a young, disillusioned missionary in Africa searches for meaning wherever he can find it. And when those two stories collide, a surprising and harrowing climax emerges that is tinged with melancholy and regret, comedy and absurdity, and above all, hope. A disturbing, heartbreaking finale that retains a touch of hope. Publishers Weekly, starred review Winner of the 2012 Michael L. Printz award Winner of the 2012 William C. Morris award A Publishers Weekly Best Books of 2011 selection.
About the Author
---
John Corey Whaley grew up in Louisiana. His debut novel, "Where Things Come Back, "was the 2012 winner of the Michael L. Printz and the William C. Morris Awards. You can learn more about him at JohnCoreyWhaley.com and follow him on Twitter: @Corey_Whaley.
Fred Berman is a five-time winner of the "AudioFile" Earphone Award for Audiobook Narration and the recipient of the 2013 Audie Award for narration in "Spy the Lie". He has read a number of audiobooks for young listeners, including Judy Blume s "Soupy Saturdays with The Pain & The Great One" and Andrew Clements s "The Last Holiday Concert". He has also narrated the audiobooks for Robert Kirkman s popular series, "The Walking Dead."
Berman is an accomplished actor of both the stage and screen as well, performing on Broadway as Timon in "The Lion King" and off-Broadway in "Hamlet", "Twelfth Night", and "King Lear". On television, Berman has had roles on NBC s hit series "Smash" as well as "All My Children "and "Law and Order". He lives in New York City.