PLEASE NOTE
Books must show: IN STOCK at your desired location for same day pick-up in stores. We recommend calling stores that show low stock numbers.
Wool (MP3 CD)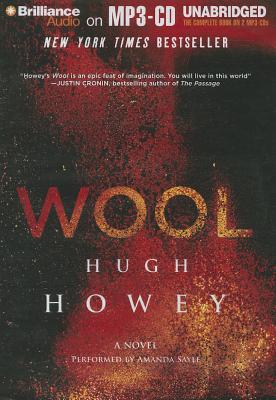 This Book Is Not Sold Online - In Store Special Order Only
Description
---
Wool is frightening, fascinating, and addictive. In one word, terrific. Kathy Reichs, author of the Temperance Brennan and Tory Brennan series In a ruined and toxic landscape, a community exists in a giant silo underground, hundreds of stories deep. There, men and women live in a society full of regulations they believe are meant to protect them. Sheriff Holston, who has unwaveringly upheld the silo's rules for years, unexpectedly breaks the greatest taboo of all: He asks to go outside. His fateful decision unleashes a drastic series of events. An unlikely candidate is appointed to replace him: Juliette, a mechanic with no training in law, whose special knack is fixing machines. Now Juliette is about to be entrusted with fixing her silo, and she will soon learn just how badly her world is broken. The silo is about to confront what its history has only hinted about and its inhabitants have never dared to whisper. Uprising.
About the Author
---
Hugh Howey is the author of the award-winning Molly Fyde Saga and the New York Times and USA Today bestselling WOOL series. The WOOL OMNIBUS won Kindle Book Review's 2012 Indie Book of the Year Award - it has been as high as #1 in the Kindle store - and 17 countries have picked up the work for translation. Look for WOOL in hardback in 2013 from Random House UK and keep your fingers crossed that Ridley Scott and Steve Zaillian will do something exciting with the film rights! Hugh lives in Jupiter, FL with his wife Amber and their dog Bella. When he isn't writing, he's reading or taking a photograph.