"Who Could That Be at This Hour?" (Compact Disc)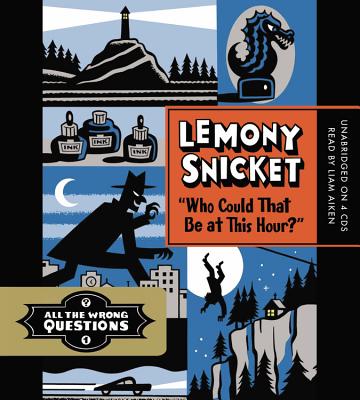 $10.00
Usually Ships in 1-5 Days
November 2012 Indie Next List
---
"Snicket's eccentric characters, gloomy settings, and twisted plots are back in full force. Thirteen-year-old Lemony is already suspicious, worried, and over his head in secrets. He is apprenticed to S. Theodora Markson (asking what the S stands for is a Wrong Question), who is taking him to Stain'd-by-the-Sea, a thoroughly strange place with lots of its own secrets. Markson and Snicket are there to do one thing: retrieve and return a statue of the rather frightening Bombinating Beast to its rightful owner. Nothing is as simple as it seems, especially when you can't trust anyone. Snicket knows much more than he's telling, and he weaves a complex mystery that ultimately brings up more questions than it answers."
— Marika McCoola, Odyssey Bookshop, South Hadley, MA
Description
---
In a fading town, far from anyone he knew or trusted, a young Lemony Snicket began his apprenticeship in an organization nobody knows about. He started by asking questions that shouldn't have been on his mind. Now he has written an account that should not be published, in four volumes that shouldn't be read. This is the first volume.
About the Author
---
LEMONY SNICKET's research has been collected and published in books, including those in A Series of Unfortunate Events. All the Wrong Questions is his first authorized autobiographical work.
SETH is a multi-award-winning cartoonist, author and artist living in Guelph, Canada.
WEB: http: //lemonysnicketlibrary.com
TWITTER: https: //twitter.com/lemonysnicket
FACEBOOK: facebook.com/daniel.handler
John Gallant lives today in Prince Edward Island, where the stories in this book take place. Seth was born in 1962 in a rural Ontario town. Seth lives in Guelph, Ontario with five cats, a gigantic collection of vintage records, comic books, and 20th century Canadiana, and his very patient wife. He regularly contributes illustrations to" The New Yorker "and" The National Post "and recently provided the entire album artwork for Sony records singer-songwriter, Aimee Mann.
Liam Aiken is an actor known for his roles in the films "Henry Fool", "Sweet November", "The Road to Perdition", and "Stepmom", for which he received the Young Artist Award. He graduated in 2008 from Dwight-Englewood School in New Jersey and is attending New York University s Kanbar Institute of Film & Television. He currently resides in New Jersey.
Praise For…
---
* "[With] gothic wackiness, linguistic play and literary allusions....Fans of the Series of Unfortunate Events will be in heaven picking out tidbit references to the tridecalogy, but readers who've yet to delve into that well of sadness will have no problem enjoying this weird and witty yarn."—Kirkus Reviews, starred review

* "Full of Snicket's trademark droll humor and maddeningly open-ended, this will have readers clamoring for volume two."—Publishers Weekly, starred review

* "Full of Snicket's characteristic wit and word play . . . this book belongs in all collections."
—VOYA, starred review

"Please, it's Lemony Snicket. Enough said."—Booklist

"A Pink Panther-esque page turner that marks the return of eccentric narrator Lemony Snicket....The black, gray and blue illustrations by celebrated cartoonist Seth only add to the throwback gumshoe vibe of this outrageous, long-overdue, middle-grade follow-up series from a truly beloved narrator."—Los Angeles Times

"Demands to be read twice: once for the laughs and the second time for the clues....Equal parts wit and absurdity."—The Boston Globe

"The sort of goodie savored by brainy kids who love wordplay, puzzles and plots that zing from point A to B by way of the whole alphabet."—The Washington Post