Mrs. Poe (Hardcover)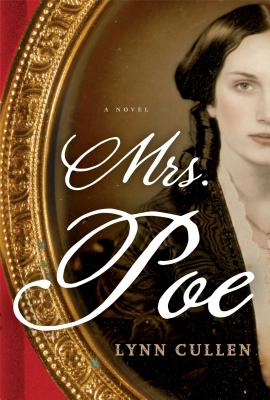 This Book Is Not Sold Online - In Store Special Order Only
Staff Reviews
---
Normal
0
false
false
false
EN-US
X-NONE
X-NONE
/* Style Definitions */
table.MsoNormalTable
{mso-style-name:"Table Normal";
mso-tstyle-rowband-size:0;
mso-tstyle-colband-size:0;
mso-style-noshow:yes;
mso-style-priority:99;
mso-style-qformat:yes;
mso-style-parent:"";
mso-padding-alt:0in 5.4pt 0in 5.4pt;
mso-para-margin-top:0in;
mso-para-margin-right:0in;
mso-para-margin-bottom:10.0pt;
mso-para-margin-left:0in;
line-height:115%;
mso-pagination:widow-orphan;
font-size:11.0pt;
font-family:"Calibri","sans-serif";
mso-ascii-font-family:Calibri;
mso-ascii-theme-font:minor-latin;
mso-fareast-font-family:"Times New Roman";
mso-fareast-theme-font:minor-fareast;
mso-hansi-font-family:Calibri;
mso-hansi-theme-font:minor-latin;
mso-bidi-font-family:"Times New Roman";
mso-bidi-theme-font:minor-bidi;}
Mrs. Poe gleams
like a diamond in gaslight, its facets glittering.  Look, there's a love
story, seductively shiny.  Over here, a tale of 19th century New York with
its cobbled streets and sinister corners.  And sparking over it all, the
mysterious Edgar Allan Poe - and all of the mystery, longing and history is
conveyed by a novelist in complete command of her story.
Nick at Books Inc. in Alameda
October 2013 Indie Next List
---
"Readers who enjoyed imagining the private lives of famous figures in Loving Frank and The Paris Wife will savor the behind-the-scenes peek into the intimacies of Edgar Allen Poe, his infirm young wife, and Frances Osgood, the writer who stole his heart. As compulsively readable -- and often as dark -- as Poe's works, Mrs. Poe is a well-researched and detailed work whose supporting cast of characters include Margaret Fuller, Horace Greely, and other literati of mid-19th century New York."
— Cheryl McKeon, Book Passage, San Francisco, CA
Description
---
Inspired by literature's most haunting love triangle, award-winning author Lynn Cullen delivers a pitch-perfect rendering of Edgar Allan Poe, his mistress's tantalizing confession, and his wife's frightening obsession in this new masterpiece of historical fiction to which Sara Gruen says, "Mrs. Poe" had my heart racing...Don't miss it
And make sure to check out the captivating new novel from Lynn Cullen "Twain's End" where the acclaimed author tells a fictionalized imagining of the relationship between iconic author Mark Twain and his personal secretary, Isabel Lyon.
1845: New York City is a sprawling warren of gaslit streets and crowded avenues, bustling with new immigrants and old money, optimism and opportunity, poverty and crime. Edgar Allan Poe's The Raven is all the rage the success of which a struggling poet like Frances Osgood can only dream. As a mother trying to support two young children after her husband's cruel betrayal, Frances jumps at the chance to meet the illustrious Mr. Poe at a small literary gathering, if only to help her fledgling career. Although not a great fan of Poe's writing, she is nonetheless overwhelmed by his magnetic presence and the surprising revelation that he admires "her" work.
What follows is a flirtation, then a seduction, then an illicit affair and with each clandestine encounter, Frances finds herself falling slowly and inexorably under the spell of her mysterious, complicated lover. But when Edgar's frail wife, Virginia, insists on befriending Frances as well, the relationship becomes as dark and twisted as one of Poe's tales. And like those gothic heroines whose fates are forever sealed, Frances begins to fear that deceiving Mrs. Poe may be as impossible as cheating death itself