Family of Secrets: The Bush Dynasty, America's Invisible Government, and the Hidden History of the Last Fifty Years (MP3 CD)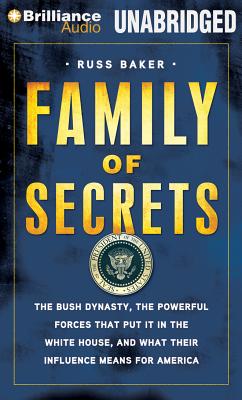 This Book Is Not Sold Online - In Store Special Order Only
Description
---
Was the rise of the disastrous George W. Bush just a matter of family connections and sly, cynical operatives such as Karl Rove? Or was something more at work something that endures beyond Bush's departure from Washington?
Award-winning investigative journalist Russ Baker provides the astonishing answers in "Family of Secrets," a groundbreaking inquiry into the Bush dynasty and the shadowy elite that has quietly steered the American republic for the past half century and more. Baker shows how this network of figures in intelligence, the military, oil, and finance enabled and in turn benefited handsomely from the Bushes perch at the highest levels of government. This deeply entrenched elite remains in power regardless of who sits in the Oval Office.
"Family of Secrets" punctures the conventional wisdom on both presidents Bush. It exposes the hidden truth behind W.'s purported religious conversion and the debacle of Hurricane Katrina, and reveals his secret motive for invading Iraq. It probes the murky history of Poppy Bush and his lifelong service to the intelligence apparatus. Ultimately, "Family of Secrets" is about much more than just the Bushes. It changes the way we comprehend postwar history from the JFK assassination to Watergate and compels us to take a new look at events now unfolding.
About the Author
---
Russ Baker is an award-winning investigative journalist who has written for the New Yorker, Vanity Fair, the New York Times, the Nation, the Los Angeles Times, the Washington Post, the Village Voice, and Esquire, and has served as a contributing editor to the Columbia Journalism Review. He is the founder of www.whowhatwhy.com, a nonpartisan, nonprofit news Web site.

Oliver Wyman, a native New Yorker, has appeared on stage as well as in film, and television. He is one of the founders of New York City's Collective Unconscious theater, and his performances include the award-winning "reality play" "Charlie Victor Romeo" and A.R. McElhinney's cult classic film "A Chronicle of Corpses". He also lent his voice to several episodes of the Teenage Mutant Ninja Turtles. Oliver's work as a narrator extends to over 150 audiobooks and has won many him awards, including Audie awards for his reading of Lance Armstrong's autobiography, "It's Not About the Bike", and Thomas L. Friedman's "The World is Flat". He also read James Frey's "A Million Little Pieces", Tim Dorsey's "Atomic Lobster", and David Weber's "By Schism Rent Asunder". Oliver has won five Audie Awards from the Audio Publisher's Association, fourteen Earphone Awards from "AudioFile" "Magazine", and two Listen Up Awards from "Publisher's Weekly. "Oliver was named a 2008 Best Voice in Nonfiction & Culture by "AudioFile Magazine".