23 Things They Don?t Tell You about Capitalism (MP3 CD)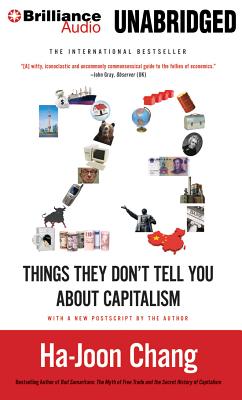 This Book Is Not Sold Online - In Store Special Order Only
Description
---
The acclaimed Ha-Joon Chang is a voice of sanity and wit in this lighthearted audiobook with a serious purpose: to question the assumptions behind the dogma and sheer hype that the dominant school of neoliberal economists have spun since the Age of Reagan. "23 Things They Don t Tell You about Capitalism" uses twenty-three short essays (a few great examples: There Is No Such Thing as a Free Market, The Washing Machine Has Changed the World More than the Internet Has ) to equip listeners with an understanding of how global capitalism works, and doesn t, while offering a vision of how we can shape capitalism to humane ends, instead of becoming slaves of the market.
Praise for "23 Things They Don t Tell You about Capitalism"
A lively, accessible and provocative book. "Sunday Times" (UK)
Chang, befitting his position as an economics professor at Cambridge University, is engagingly thoughtful and opinionated at a much lower decibel level. The truths peddled by free-market ideologues are based on lazy assumptions and blinkered visions, he charges. "Time"
About the Author
---
Ha-Joon Chang teaches economics at Cambridge University. Unusually for an economist, his writings have been translated into thirty-six languages in thirty-nine countries. His books include the international bestseller Bad Samaritans: The Myth of Free Trade and the Secret History of Capitalism, Kicking Away the Ladder, winner of the 2003 Myrdal Prize, and 23 Things They Don t Tell You about Capitalism. In 2005, Chang was awarded the Leontief Prize for Advancing the Frontiers of Economic Thought. In 2014, Prospect magazine ranked him ninth in its list of the most influential thinkers in the world.

Joe Barrett has been a working stage, screen, and recording booth actor since 1974 and an award-winning and eight-time Audie Award nominated audiobook narrator since 1999. He also practiced law for five years but don't hold that against him. Joe is married to actress Andrea Wright, and together they have four very grown children.