Valis (Compact Disc)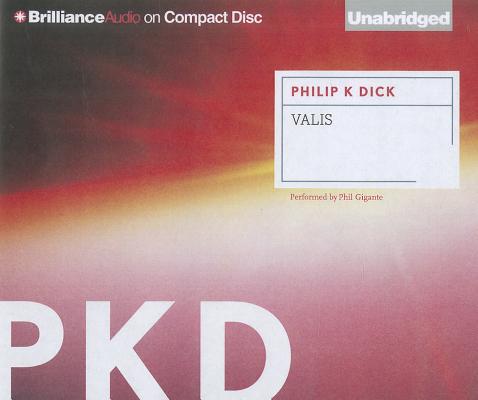 This Book Is Not Sold Online - In Store Special Order Only
Description
---
What is VALIS? This question is at the heart of Philip K. Dick's groundbreaking novel, the first book in his defining trilogy. When a beam of pink light begins giving a schizophrenic man named Horselover Fat (who just might also be known as Philip K. Dick) visions of an alternate Earth where the Roman Empire still reigns, he must decide whether he is crazy or whether a godlike entity is showing him the true nature of the world.
"VALIS" is essential listening for any true Philip K. Dick fan, a novel that Roberto Bolano called more disturbing than any novel by Carson] McCullers. By the end, like Dick himself, you will be left wondering what is real, what is fiction, and just what the price is for divine inspiration.
About the Author
---
Philip K. Dick (1928-1982) was an American science-fiction novelist, short-story writer and essayist. A contemporary of Ursula K. Le Guin, Dick's first short story, "Beyond Lies the Wub," was published shortly after his high-school graduation. Many of Dick's works drew upon his personal experiences with drug abuse, addressing topics such as paranoia and schizophrenia, transcendental experiences and alternate reality, and the childhood death of his twin sister is reflected through the recurring theme of the "phantom twin" in many of his novels. Despite ongoing financial troubles and issues with the IRS, Dick had a prolific writing career, winning both the Hugo Award and the Nebula Award multiple times. Some of his most famous novels and stories--A Scanner Darkly, "The Minority Report," "Paycheck," and Do Androids Dream of Electric Sheep? (adapted into the film Blade Runner)--have been adapted for film. Dick died in 1982.

Phil Gigante is an APA Audie Award winner (The Dark Highlander, The Stainless Steel Rat, and The Watch That Ends the Night), and winner of over a dozen Audiofile Magazine Earphones Awards. He has narrated and directed more than 250 books, and was twice named a "Best Voice in Mystery and Suspense" by Audiofile Magazine. He has been named a Best Male Narrator in the categories of Romance, Science Fiction, Militaria, and Mystery/Suspense, as well as "Favorite Dual Narrator" (with Natalie Ross). Phil also works in film, TV and radio, and is the Producer/Director of Gigantic Productions theatre company. He makes his home in the Midwest.