Hero (MP3 CD)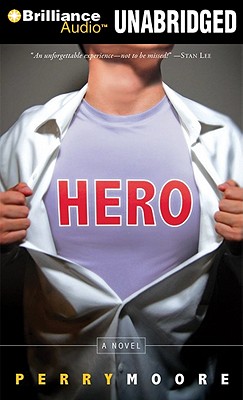 This Book Is Not Sold Online - In Store Special Order Only
Description
---
The last thing in the world Thom Creed wants is to add to his dad, Hal's, pain, so he keeps secrets. Like that he has special powers. And that he's been asked to join the League the very organization of superheroes that spurned his father. The most painful secret of all is one Thom can barely face himself: he's gay.
But becoming a member of the League opens up a new world to Thom. There, he connects with a misfit group of aspiring heroes, including Scarlett, who can control fire but not her anger; Typhoid Larry, who can make anyone sick with his touch; and Ruth, a wise old broad who can see the future. Like Thom, these heroes have things to hide, but they will have to learn to trust one another when they uncover a deadly conspiracy within the League.
To survive, Thom will face challenges he never imagined. To find happiness, he ll have to come to terms with his father's past and discover the kind of hero he really wants to be.
Perry Moore brings an enticing new genre to the world of young adult novels. Maurice Sendak
Perry Moore's genre-busting tale of a teenager with human emotions and superhuman powers is a true original. James Howe
Truly a groundbreaking novel, its dedication reads: For everyone. And indeed it is. Lloyd Alexander
2008 Lambda Literary Award Winner
2008 YALSA Best Book for Young Adults
About the Author
---
PERRY MOORE grew up in Virginia. His father, a Vietnam veteran, was the inspiration for the character of Hal Creed. Perry is the executive producer of The Chronicles of Narnia films, and his book about the making of The Lion, the Witch, and the Wardrobe was a New York Times best seller. With his partner, Hunter Hill, Perry wrote and directed his first feature film, Lake City, starring Sissy Spacek. This is Perry s first novel. He lives in New York City.

The bestselling author of the Dark Days series and a former financial analyst, Jocelynn Drake lives in Kentucky.