A Pleasure to Burn: Fahrenheit 451 Stories (Compact Disc)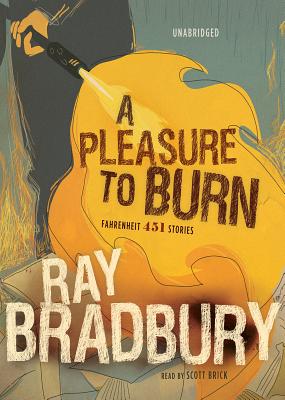 This Book Is Not Sold Online - In Store Special Order Only
About the Author
---
In a career spanning more than seventy years, Ray Bradbury, who died on June 5, 2011 at the age of 91, inspired generations of readers to dream, think, and create. A prolific author of hundreds of short stories and close to fifty books, as well as numerous poems, essays, operas, plays, teleplays, and screenplays, Bradbury was one of the most celebrated writers of our time. His groundbreaking works include Fahrenheit 451, The Martian Chronicles, The Illustrated Man, Dandelion Wine, and Something Wicked This Way Comes. He wrote the screen play for John Huston's classic film adaptation of Moby Dick, and was nominated for an Academy Award. He adapted sixty-five of his stories for television's The Ray Bradbury Theater, and won an Emmy for his teleplay of The Halloween Tree. He was the recipient of the 2000 National Book Foundation Medal for Distinguished Contribution to American Letters, the 2004 National Medal of Arts, and the 2007 Pulitzer Prize Special Citation, among many honors.
Throughout his life, Bradbury liked to recount the story of meeting a carnival magician, Mr. Electrico, in 1932. At the end of his performance Electrico reached out to the twelve-year-old Bradbury, touched the boy with his sword, and commanded, "Live forever!" Bradbury later said, "I decided that was the greatest idea I had ever heard. I started writing every day. I never stopped."
Scott Brick first began narrating audiobooks in 2000, and after recording almost 400 titles in five years, "AudioFile" magazine named Brick a Golden Voice and one of the fastest-rising stars in the audiobook galaxy. He has read a number of titles in Frank Herbert s bestselling "Dune" series, and he won the 2003 Science Fiction Audie Award for "Dune: The Butlerian Jihad". Brick has narrated for many popular authors, including Michael Pollan, Joseph Finder, Tom Clancy, and Ayn Rand. He has also won over 40 "AudioFile" Earphones Awards and the "AudioFile" award for Best Voice in Mystery and Suspense 2011. In 2007, Brick was named "Publishers Weekly" s Narrator of the Year.
Brick has performed on film, television and radio. He appeared on stage throughout the United States in productions of "Cyrano, Hamlet, Macbeth" and other plays. In addition to his acting work, Brick choreographs fight sequences, and was a combatant in films including "Romeo and Juliet", "The Fantasticks" and "Robin Hood: Men in Tights". He has also been hired by Morgan Freeman to write the screenplay adaptation of Arthur C. Clarke s "Rendezvous with Rama".