PLEASE NOTE
Books must show: IN STOCK at your desired location for same day pick-up in stores. We recommend calling stores that show low stock numbers.
Body Counts: A Memoir of Politics, Sex, AIDS, and Survival (Hardcover)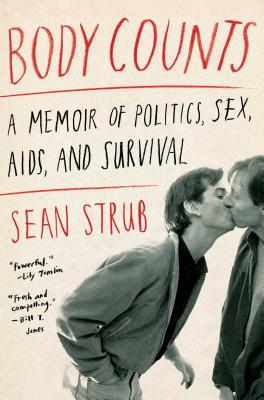 $30.00
Usually Ships in 1-5 Days
Description
---
Sean Strub, founder of the groundbreaking "POZ" magazine, producer of the hit play "The Night Larry Kramer Kissed Me," and the first openly HIV-positive candidate for U.S. Con-gress, charts his remarkable life--a story of politics and AIDS and a powerful testament to loss, hope, and survival.
As a politics-obsessed Georgetown freshman, Sean Strub arrived in Washington, D.C., from Iowa in 1976, with a plum part-time job running a Senate elevator in the U.S. Capitol. He also harbored a terrifying secret: his attraction to men. As Strub explored the capital's political and social circles, he discovered a parallel world where powerful men lived double lives shrouded in shame.
When the AIDS epidemic hit in the early 1980s, Strub was living in New York and soon found himself attending "more funerals than birthday parties." Scared and angry, he turned to radical activism to combat discrimination and demand research. Strub takes readers through his own diagnosis and inside ACT UP, the activist organization that transformed a stigmatized cause into one of the defining political movements of our time.
From the New York of Studio 54 and Andy Warhol's Factory to the intersection of politics and burgeoning LGBT and AIDS movements, Strub's story crackles with history. He recounts his role in shocking AIDS demonstrations at St. Patrick's Cathedral and the home of U.S. Sen-ator Jesse Helms. "Body Counts "is a vivid portrait of a tumultuous era, with an astonishing cast of characters, including Tennessee Williams, Gore Vidal, Keith Haring, Bill Clinton, and Yoko Ono.
By the time a new class of drugs transformed the epidemic in 1996, Strub was emaciated and covered with Kaposi's sarcoma lesions, the scarlet letter of AIDS. He was among the fortunate who returned, Lazaruslike, from the brink of death.
Strub has written a vital, inspiring memoir, unprecedented in scope, about this deeply important period of American history.
About the Author
---
Sean Strub is an activist, writer, and executive director of the Sero Project, which combats the criminalization of people with HIV. He founded "POZ "magazine, the leading publication providing information about HIV, and is a frequent speaker about HIV/AIDS, self-empowerment, and the intersections of sex, public health, and the law. A native of Iowa City, Strub attended Georgetown and Columbia universities. He and his partner, Xavier Morales, live in New York and Milford, Pennsylvania.