Women Food and God: An Unexpected Path to Almost Everything (Compact Disc)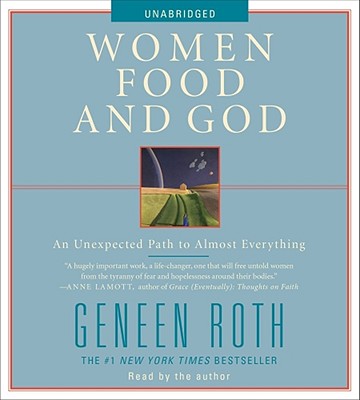 This Book Is Not Sold Online - In Store Special Order Only
Description
---
No matter how sophisticated or wealthy or broke or enlightened you are, how you eat tells all.
If you suffer about your relationship with food you eat too much or too little, think about what you will eat constantly or try not to think about it at all you can be free. Just look down at your plate. The answers are there. Don t run. Look. Because when we welcome what we most want to avoid, we contact the part of ourselves that is fresh and alive. We touch the life we truly want and evoke divinity itself.
Now, after three decades of studying, teaching and writing about what drives our compulsions with food, Geneen Roth adds a profound new dimension to her work in Women Food and God. She begins with her most basic concept: The way you eat is inseparable from your core beliefs about being alive. Your relationship with food is an exact mirror of your feelings about love, fear, anger, meaning, transformation and, yes, even God. She shows how going beyond both the food and feelings takes you deeper into realms of spirit and soul to the bright center of your own life, and reveals how your relationship with food is the doorway to freedom and what you want most: the demystification of weight loss, and the luminous presence that so many of us call "God."
A knock-your-socks-off ride to a deeply fulfilling relationship with food, your body and almost everything else, Women Food and God is, quite simply, a guide for life.

Praise For…
---
"Geneen Roth has written an extraordinary book - at once beautiful, moving, funny and searing. Most important, she gives us a practical way to use our bodies - along with some of the most difficult parts of our emotional lives - as gracious and transformative portals to our soul."
--Rick Foster, co-author of Happiness & Wealth and How We Choose to Be Happy



"Women Food and God is daring, dazzling, funny, comforting, wise and profoundly spiritual. It maps the journey from the darkness of obsession to the pure sense of being in prose so insightful and astonishing it left me breathless. Geneen Roth is an international treasure, and her new book is a gift to us all."
-- Gay Hendricks, Ph.D. author of Five Wishes and Conscious Loving



"Geneen Roth does it again! Women Food and God is absolutely mesmerizing. And loaded with insights which can change your life."
--Chistiane Northrup, MD, ob/gyn physician and author of Women's Bodies, Women's Wisdom and The Wisdom of Menopause



"This is a hugely important work, a life-changer, one that will free untold women from the tyranny of fear and hopelessness around their bodied. Beautifully written, a joy to read, rich in both revelation and great humor."
--Anne Lamott, author of Grace (Eventually): Thoughts on Faith