PLEASE NOTE
Books must show: IN STOCK at your desired location for same day pick-up in stores. We recommend calling stores that show low stock numbers.
Palimpsest (Compact Disc)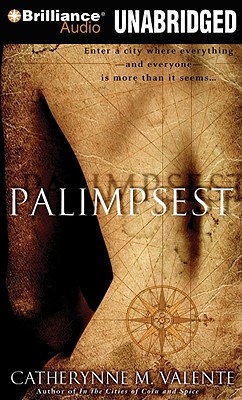 This Book Is Not Sold Online - In Store Special Order Only
Description
---
Between life and death, dreaming and waking, at the train stop beyond the end of the world is the city of Palimpsest. To get there is a miracle, a mystery, a gift, and a curse a voyage permitted only to those who ve always believed there's another world than the one that meets the eye. Those fated to make the passage are marked forever by a map of that wondrous city tattooed on their flesh after a single orgasmic night. To this kingdom of ghost trains, lion-priests, living kanji, and cream-filled canals come four travelers: Oleg, a New York locksmith; the beekeeper November; Ludovico, a binder of rare books; and a young Japanese woman named Sei. They ve each lost something important a wife, a lover, a sister, a direction in life and what they will find in Palimpsest is more than they could ever imagine.
About the Author
---
Catherynne M. Valente began September s adventures in installments on the Web; the project won legions of fans and also the CultureGeek Best Web Fiction of the Decade award. She lives with her husband on an island off the coast of Maine. She has written many novels for adults, but this is her children s book debut.