Red Flags or Red Herrings?: Predicting Who Your Child Will Become (Hardcover)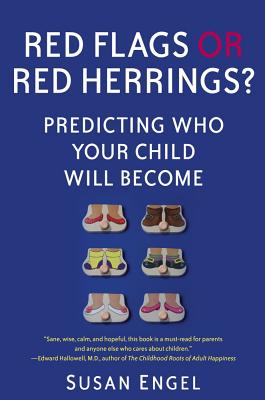 This Book Is Not Sold Online - In Store Special Order Only
Description
---
"Take the worry out of parenting "
These days, parenthood and anxiety seem to go hand in hand, especially given that it's harder than ever to raise happy, well-adjusted kids in our complicated world. And all parents long to figure out just who their child will become when he or she grows up. But with websites, media, and other parents providing an endless stream of advice about how to raise a perfect and perfectly happy child, how can you really know whom to trust?
Susan Engel draws on her years of experience as a developmental psychologist, educator, and mother to help parents stop worrying about their young children's future and stop trying to control their formative years. Offering an intriguing new way of thinking about child development, she uses both personal and professional research to identify problematic behaviors that require intervention and gives reassurance about those that don t. Unlike many parenting experts, Engel encourages perspective and acceptance: rambunctious children will calm down as they find activities to absorb their intellectual energy; similarly, as shy kids grow, they will learn how to reach out to others on a one-to-one level.
Engel provides straightforward guidance about issues of major concern for parents happiness, intelligence, love, and morality while blending stories about real children with relevant and up-to-the-minute social and clinical research. This absorbing narrative is an indispensable tool that will restore your sanity, help you sleep better, and put the joy back in child-raising.
Praise For…
---
"The perfect antidote to the high anxiety that pervades parenting these days, Susan Engel's lovely book tells the wonderful truth that parents don't need to worry much, that children will grow up and become wonderful people if given a parent or two who loves them and the basic necessities. She urges parents to enjoy their children and bask in the warmth of their childhoods, rather than spend these glorious years in fretful states of apprehension and feckless fear. A superb and smart book." —Edward Hallowell, M.D., The Hallowell Center, New York City, and author of The Childhood Roots of Adult Happiness



"This is a liberating book for all parents who worry too much about how to direct their children's development…Parenting has become uncomfortably competitive and many mothers and fathers turn themselves around in confused circles trying to identify what will guarantee their child's success. This book will help parents learn that children should be our primary guide in providing the conditions that support them to become the best of who they are, rather than who we want them to be." —Roger A. Hart, Professor, PhD Programs of Environmental and Developmental Psychology, The Graduate Centre of the City University of New York.




"A technically thoughtful and beautifully written book to help parents get a better sense of what their children are likely to become when they're grown — and why." —Jerome S. Bruner, PhD., NYU Professor of Psychology and author of The Process of Education



"Refreshing, lively…should reduce the worries of the many parents who do not appreciate the extraordinary capacities for change present in all children, who have the opportunities to exploit new experiences that permit them to grow closer to their personal ideal." —Jerome Kagan, Ph.D., author of The Nature of the Child



"In this eye-opening book, Susan Engel offers us a provocative new look at how children attain successful lives —and, indeed, what success in youth development really means. She has a deep understanding of children's lives." —William Damon, Professor at Stanford University, Director of the Stanford Center on Adolescence, and author of The Path to Purpose: How Young People find the Calling in Life



"Susan Engel's book will ease your mind, and help you separate the things that are nothing to worry about…from the things that might really signal that something is wrong. An important and reassuring addition to any American parent's bookshelf." —Robin Marantz Henig, author of Pandora's Baby: How the First Test Tube Babies Sparked the Reproductive Revolution



"Insightful…the author knows her stuff and is a wonderful storyteller." —Publishers Weekly