At the Mountains of Madness: And Other Weird Tales (Paperback)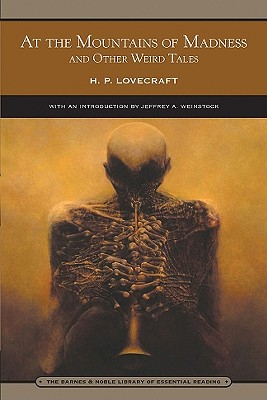 This Book Is Not Sold Online - In Store Special Order Only
Description
---
Multi-eyed protoplasmic entities, flesh-eating ghouls, animate corpses, time-traveling body snatchers, and, yes, huge albino penguins. These are some of the bizarre creatures that populate the universe created by American horror author H. P. Lovecraft. Lovecraft has influenced many of today's most famous writers and artists, including master of contemporary horror fiction Stephen King, Academy Award-nominated director Guillermo Del Toro, and artist and Alien set-designer H. R. Giger. 
This collection includes three selections from the Cthulhu Mythos: the novella At the Mountains of Madness, which is often considered Lovecraft's masterpiece; The Thing on the Doorstep"; and The Shadow Out of Time."  While including all the chilling cyclopean vistas," monstrous abominations and appalling transformations that readers have come to expect from Lovecraft, this also showcases his fantasy writing in stories such as The Cats of Ulthar," The Silver Key," and notably The Dream-Quest of Unknown Kadath. 
About the Author
---
Howard Phillips Lovecraft, August 1890 - March 1937, was an American author who achieved posthumous fame through his influential works ofhorror fiction. Virtually unknown and only published in pulp magazines before he died in poverty, he is now regarded as one of the most significant 20th-century authors in his genre. Lovecraft was born inProvidence, Rhode Island, where he spent most of his life.

Jeffrey Andrew Weinstock is Associate Professor of English at Central Michigan University and the author of several books, including The Rocky Horror Picture Show and Spectral America: Phantoms and the National Imagination.