The Adoration of Jenna Fox (Compact Disc)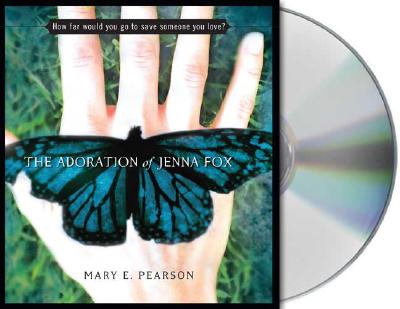 This Book Is Not Sold Online - In Store Special Order Only
Description
---
Who is Jenna Fox? Seventeen-year-old Jenna has been told that is her name. She has just awoken from a coma, they tell her, and she is still recovering from a terrible accident in which she was involved a year ago. But what happened before that? Jenna doesn't remember her life. Or does she? And are the memories really hers?
Mary E. Pearson's" The Adoration of Jenna Fox" is a 2009 Bank Street - Best Children's Book of the Year.
About the Author
---
Mary E. Pearson is the author of bestselling, award-winning novels for teens. "The Miles Between" was named a Kirkus Best Book of the Year, and "The Adoration of Jenna Fox" was listed as a Bank Street Best Children's Book of the Year, an IRA Young Adult Choice, NYPL Stuff for the Teen Age, and a School Library Journal Best Book of the Year. She is also the author of "A Room on Lorelei Street", "David v. God", and "Scribbler of Dreams". Pearson studied art at Long Beach State University, and worked as an artist before earning her teaching credential at San Diego State University. She writes full-time from her home in Carlsbad, California, where she lives with her husband and two dogs.
Jenna Lamia is the acclaimed narrator of Mary E. Pearson's "The Adoration of Jenna Fox", which won a YALSA Amazing Audiobooks for Young Adults award, and Carol Lynch Williams's "The Chosen One", for which Jenna received the 2010 solo narration (female) Audie Award.
Lamia made her Broadway debut in 1988 in "Ah, Wilderness", and she's also appeared off-Broadway in "The Glory Of Living", directed by Philip Seymour Hoffman. Her other acting credits include appearances on "Oz, Law & Order: SVU, The Jury, " and "NYPD Blue". She's also appeared in the films "The Fighter, The Box, " and "Something's Wrong in Kansas".She attended Amherst College, New York University, and the Sorbonne in Paris.
Praise For…
---
"Jenna Lamia delivers another outstanding understated, yet absolutely riveting performance in The Adoration of Jenna Fox." - 5MinutesForBooks.com "Narrator Jenna Lamia excels at evoking the haunting, yet detached way that Jenna begins to connect the events in her life. Combining science fiction, medical mystery, and teen relationships into an excellent package that is satisfying from beginning to end, this is a must-have for all collections." - School Library Journal "It's hard to imagine any reader doing as fine a job with this audio as Lamia.  Her vocal tone is faultless throughout, whether she is self-reflecting or interacting with the other impeccably voiced characters.  There were moments during the sometimes-chilling narration when it was quite literally breathtaking.  Jenna is believably torn, confused, angry, and cautiously hopeful during her recovery, growth and ultimate shocking realization of the truth about her accident and the subsequent steps her parents took to save her.  The bonus interview with the author is as engaging and though provoking as Jenna Fox's story.  Ideal for book discussions and group listening." - KLIATT, Starred Review "...Lamia becomes the transparent agent of Jenna's story: she leads the listener along that path by keeping her voice continually in the now, her nuanced, authentic teen inflection reflecting Jenna's newly won proficiency with language and her gradual decoding of the emotions and motives of her limited circle of family and friends. Lamia holds the rare gift of communicating not only the words on the page but also the punctuation and white space, infusing all with emotion. Listeners are taken beyond the book by the inclusion of a bonus interview with Pearson, which provides the gripping description of the author's driving force behind the writing." - Horn Book Magazine "Narrator Jenna Lamia, who has a fresh, youthful-sounding voice, assumes the role of the confused teen.  Lamia reads with a strong sense of believability, capturing the tone of a female adolescent with perfection."  - AudioFile
"The audiobook, ably narrated by Lamia, conveys Jenna's growing sense of dread as she discovers the extent to which her parents have gone to save her life after the accident. The delivery is quiet and almost detached throughout the first part of the audio. Jenna's growing sense of dread is mirrored in the increasingly emotional tones taken on by the narrator." - Teri Lesesne, VOYA
"[Lamia] has to be one of the best voice actors that I've heard, easily transitioning between different characters and helping distinguish between them, always clear and concise. Her contribution was certainly a benefit to the novel." – SciFiChick.com
"Narrator Jenna Lamia brilliantly brings to life one of the most empty -- literally -- young women in fiction" -- Booklist
"Narrator Jenna Lamia, who has a fresh, youthful-sounding voice, assumes the role of the confused teen. Lamia reads with a strong sense of believability, capturing the tone of a female adolescent with perfection." -- AudioFile Magazine