Keep the Change: A Clueless Tipper's Quest to Become the Guru of the Gratuity (Compact Disc)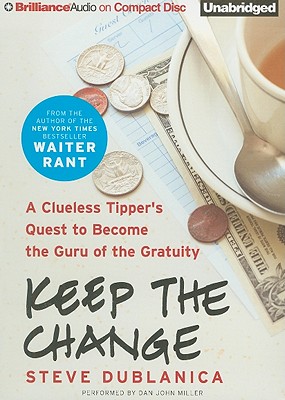 This Book Is Not Sold Online - In Store Special Order Only
Description
---
Tipping is huge in America. Almost everyone leaves at least one tip every day. More than five million American workers depend on them, and we spend $66 billion on tips each year. And everyone recognizes that queasy feeling - in bars and restaurants, barbershops and beauty parlors, hotels and strip clubs, and everywhere else - when the check arrives or the tip jar looms. Omnipresent yet poorly understood, tipping has worked its way into almost every part of daily life. In Keep the Change, bestselling author Steve Dublanica dives into this unexplored world, in a comical yet serious attempt to turn himself into the Guru of the Gratuity. As intrepid and irreverent as Michael Moore or A. J. Jacobs, Dublanica travels the country to meet strippers and shoeshine men, bartenders, bellhops, bathroom attendants, and many others, all in an effort to overcome his own sweaty palms when faced with those perennial questions: Should I tip? How much? Throughout, he explores why tipping has spread; he explains how differences in gender, age, ethnicity, and nationality affect our attitudes; and he reveals just what the cabdriver or deliveryman thinks of us after we ve left a tip. Written in the lively style that made Waiter Rant such a hit, Keep the Change is a fun and enlightening quest that will change the way we think and tip.
About the Author
---
Steve Dublanica is the bestselling author of Waiter Rant, which spent twelve weeks on the New York Times bestseller list. He lives in the New York metropolitan area with his joint-custody dog Buster.

Dan John Miller is an American actor and musician. In the Oscar-winning "Walk the Line", he starred as Johnny Cash s guitarist and best friend, Luther Perkins, and has also appeared in George Clooney s "Leatherheads "and "My One and Only", with Renee Zellweger. An award-winning audiobook narrator, Dan has garnered multiple Audie Award nominations, has twice been named a Best Voice by "AudioFile "magazine, and has received several AudioFile Earphones Awards and a Listen-Up Award from "Publishers Weekly".