The Post-Birthday World (MP3 CD)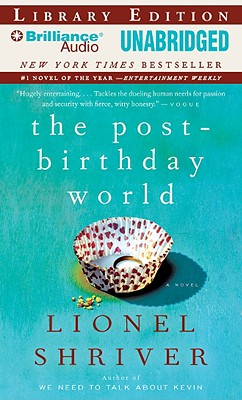 This Book Is Not Sold Online - In Store Special Order Only
Description
---
The Post-Birthday World is a brilliant what if? novel. But that barely scrapes the surface in describing Shriver's imaginative feat. . . .It's mad genius. . . . A tour de force. USA Today American children's book illustrator Irina McGovern enjoys a secure, settled life in London with her smart, loyal, disciplined partner, Lawrence until the night she finds herself inexplicably drawn to kissing another man, a passionate, extravagant, top-ranked snooker player. Two competing alternate futures hinge on this single kiss, as Irina's decision to surrender to temptation or to preserve her seemingly safe partnership with Lawrence will have momentous consequences for her career, her friendships and familial relationships, and the texture of her daily life. A playful, psychologically acute, and luxuriously textured meditation on the nature of love. The New Yorker Outstanding. . . . Shriver, a brilliant and versatile writer, allows these competing stories to unfold organically, each a fully rounded drama, rich with irony, ambiguity, and unforeseeable human complications. Entertainment Weekly A] wonderful new novel. . . . The rewards for sticking with these five-hundred-plus pages are as delicious as one of Irina's feasts. Washington Post Book World Book clubs across the USA should be buying up stacks of Lionel Shriver's dazzling Rubik's Cube of a novel. . . . Even if you re a solitary reader, file this one under Books That Will Have You Talking to yourself. USA Today.
About the Author
---
Lionel Shriver's books include The Post-Birthday World, Game Control, and the Orange Prize-winning We Need to Talk About Kevin. She writes frequently for the Wall Street Journal, The Guardian, and The Independent. She lives in London.

Tanya Eby has been a voice-over artist for over a decade. She is an Audie-nominated and "AudioFile" Earphones Award winning narrator. Besides narrating, Tanya spends her time teaching creative writing classes at the collegiate level, blogging, and working on her own novels.