The Lightning Thief (Paperback)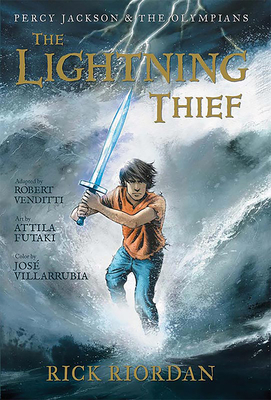 Description
---
You've read the book. You've seen the movie. Now submerge yourself in the thrilling, stunning, and action-packed graphic novel.

Mythological monsters and the gods of Mount Olympus seem to be walking out of the pages of twelve-year-old Percy Jackson's textbooks and into his life. And worse, he's angered a few of them. Zeus's master lightning bolt has been stolen, and Percy is the prime suspect. Now, he and his friends have just ten days to find and return Zeus's stolen property and bring peace to a warring Mount Olympus.

Series creator Rick Riordan joins forces with some of the biggest names in the comic book industry to tell the story of a boy who must unravel a treachery more powerful than the gods themselves.
About the Author
---
Rick Riordan is the #1 New York Times bestselling author of the Percy Jackson and the Olympians series for children and the Tres Navarre series for adults. Rick lives with his family in San Antonio, Texas.



Villarrubia is best known for his fine art photographs. Oveer the last 18 years he has participated in over one hundred exhibitions in North and South America and Europe. His photographs are in the permanent collections of the Baltimore Museum of Art and the Inter-Amerian Development Bank. He is a professor at the Maryland Institute College of Art.