Lulu and the Brontosaurus (Paperback)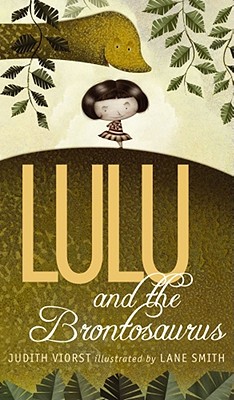 July 2010 Indie Next List
---
"Spoiled Lulu demands a brontosaurus for her birthday, and when her parents say no, Lulu tromps off to find one herself. The scary woods provide some animal encounters that Lulu easily deals with; she is the scary one, after all. Finally Lulu finds Mr. B, a brontosaurus who completely agrees that having a pet would be a wonderful thing. What happens next will surprise young readers and please their parents. Lane Smith's illustrations add a fine comedic touch."
— Margaret Brennan Neville, The King's English, Salt Lake City, UT
Description
---
Now in paperback, an illustrated chapter book from industry legends Judith Viorst and Lane Smith
"I m gonna, I'm gonna, I'm gonna, gonna, get "
"a bronto-bronto-bronto-bronto-saurus for a pet
"Lulu is so accustomed to getting what she wants that when her parents deny her birthday request for a brontosaurus, she throws a four-day temper tantrum and then storms off into the forest in search of the dinosaur she clearly deserves. Lulu isn t particularly impressed with the snake, tiger, and bear she encounters, but then she finds him a beautiful, long-necked, graceful brontosaurus. Mr. B completely agrees with Lulu that having a pet would be a wonderful thing, and Lulu thinks she's gotten her birthday wish at last. Until she realizes that Mr. Brontosaurus thinks that "she" would make an ideal pet for "him"
How will Lulu ever get out of this sticky situation without throwing a fit (Mr. B does not respond well to those), or using force (Mr. B is much too tall to bonk on the head with her suitcase), or smushing her pickle sandwich? Beloved children's author Judith Viorst and Caldecott-winning illustrator Lane Smith offer a fresh and funny tale with several surprise endings
About the Author
---
Judith Viorst was born and brought up in New Jersey, graduated from Rutgers University, moved to Greenwich Village, and has lived in Washington, DC, since 1960, when she married Milton Viorst, a political writer. They have three sons and seven grandchildren. A 1981 graduate of the Washington Psychoanalytic Institute, Viorst writes in many different areas: science books; children s picture books including the beloved "Alexander and the Terrible, Horrible, No Good, Very Bad Day", which was made into a box-office favorite movie of the same name; adult fiction and nonfiction; poetry for children and adults; and musicals.
Lane Smith has written and illustrated a bunch of stuff, most recently "There Is A Tribe of Kids", which is set to launch in Summer 2016. He is the author of the middle-grade novel "Return to Augie Hobble, " as well as author and illustrator of "Grandpa Green" which was a 2012 Caldecott Honor book and "It's a Book" which was on the "New York Times" bestseller list for over six months and has been translated into over twenty languages. His other works include the national bestsellers "Madam President" and "John, Paul, George & Ben". His titles with Jon Scieszka have included the Caldecott Honor winner "The Stinky Cheese Man"; "The True Story of the 3 Little Pigs"; "Math Curse"; and "Science Verse". Lane's other high profile titles include "Hooray for Diffendoofer Day! "by Dr. Seuss and Jack Prelutsky; "The Very Persistent Gappers of Frip" by George Saunders; "Big Plans" by Bob Shea; and "James and the Giant Peach" by Roald Dahl. In 1996, Lane served as Conceptual Designer on the Disney film version of "James and the Giant Peach".
His books have appeared on the "New York Times" Best Illustrated Book of the Year list four times. Lane and book designer Molly Leach live in rural Connecticut.