Happenstance Found (Hardcover)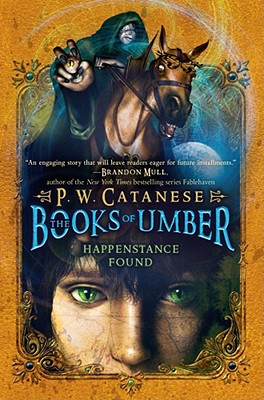 $16.99
Usually Ships in 1-5 Days
January 2009 Indie Next List
---
"An unusual boy found in a lost city has become the key to a renewal of two worlds. But horrific being are stalking him, and if Hap is killed all will be lost."
— Ellen Perry, Browsing Bison Books, Deer Lodge, MT
Description
---
Twelve-year-old Happenstance awakens in a cave with no memory of who he is or how he came to be there. Soon a mysterious trio arrives to take him away: the explorer Umber, the shy archer Sophie, and Oates, whose strength and honesty are both brutal. Hap and his new acquaintances narrowly escape the cavernous underworld and make their way to Lord Umber's bustling jewel of a harbor city, Kurahaven.
Once there, Hap learns that Lord Umber is an extraordinary man -- he's a merchant, adventurer, inventor, royal adviser, and chronicler of all things monstrous and magical. But Umber's accomplishments can't answer the question closest to the boy's heart: Who is Happenstance?
Desperate to uncover clues in his new, baffling surroundings, Hap accompanies Umber on dangerous and unusual missions. But Hap soon learns that there are powerful enemies inside the kingdom, and a ruthless assassin is hot on his trail. Faced with many unknowns, Hap knows one thing is certain: There's a reason Umber has chosen him...if only he could determine it.
P. W. Catanese's richly spun fantasy chronicles one boy's quest for answers and hope in a world riddled by knowledge and power corrupted.
About the Author
---
P.W. Catanese is the author of eight fantasy-adventure novels. His books have been received with critical acclaim and have been translated into five foreign languages. His Books of Umber trilogy has been nominated for six regional book awards including the Texas Bluebonnet Award, the Florida Sunshine State Young Readers Award, and the Pacific Northwest Library Association s Young Reader s Choice Awards. When he s not writing books, Catanese draws cartoons and works for an advertising agency. He lives in Connecticut with his wife and three children.