Jennifer, Hecate, Macbeth, William McKinley, and Me, Elizabeth (Paperback)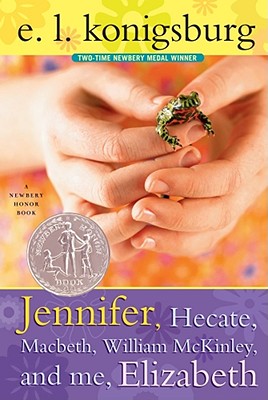 Staff Reviews
---
Normal
0
false
false
false
EN-US
X-NONE
X-NONE
MicrosoftInternetExplorer4
st1\:*{behavior:url(#ieooui) }
/* Style Definitions */
table.MsoNormalTable
{mso-style-name:"Table Normal";
mso-tstyle-rowband-size:0;
mso-tstyle-colband-size:0;
mso-style-noshow:yes;
mso-style-priority:99;
mso-style-qformat:yes;
mso-style-parent:"";
mso-padding-alt:0in 5.4pt 0in 5.4pt;
mso-para-margin:0in;
mso-para-margin-bottom:.0001pt;
mso-pagination:widow-orphan;
font-size:11.0pt;
font-family:"Calibri","sans-serif";
mso-ascii-font-family:Calibri;
mso-ascii-theme-font:minor-latin;
mso-fareast-font-family:"Times New Roman";
mso-fareast-theme-font:minor-fareast;
mso-hansi-font-family:Calibri;
mso-hansi-theme-font:minor-latin;
mso-bidi-font-family:"Times New Roman";
mso-bidi-theme-font:minor-bidi;}
With Halloween just around
the corner, I want to remind everybody about this Newbery Honor book by the
wonderful E.L. Konigsburg (of  FROM THE
MIXED UP FILES…fame!)  JENNIFER is one of
my favorite books and I still enjoy reading it.
Elizabeth is a new fifth grader in school, but has not made any
friends.  On the way to school on
Halloween, dressed as a witch for the school parade, she meets another fifth
grader named Jennifer.  Jennifer is not
only dressed as a witch, but informs Elizabeth
that she is, in fact, a real witch, and will make Elizabeth her apprentice.  Though not exactly friends, the girls spend
all of their time together, with Jennifer setting up 'apprentice witch' tasks
for Elizabeth
to follow.
This is a great 'girls' book,
(3rd, 4th, 5th grades) about friendship,
loneliness, being the odd girl out, but also about finding that one good
friend.   I just love how Elizabeth's mom keeps asking her to become friends with
one of the other girls who all the parents think is the perfect child, but who Elizabeth knows is
actually fake and not a nice person.  
Kids really do know best!
— Penny from Burlingame
Description
---
Elizabeth is an only child, new in town, and the shortest kid in her class. She's also pretty lonely, until she meets Jennifer. Jennifer is...well, different. She's read "Macbeth." She never wears jeans or shorts. She never says please or thank you. And she says she is a witch.
It's not always easy being friends with a witch, but it's never boring. At first an apprentice and then a journeyman witch, Elizabeth learns to eat raw eggs and how to cast small spells. And she and Jennifer collaborate on cooking up an ointment that will enable them to fly. That's when a marvelous toad, Hilary Ezra, enters their lives. And that's when trouble starts to brew.
About the Author
---
E. L. Konigsburg is the only author to have a Newbery Medal and a Newbery Honor in the same year. Her first two books, "From the Mixed-up Files of Mrs. Basil E. Frankweiler" and "Jennifer, Hecate, Macbeth, William McKinley, and Me, Elizabeth," were Newbery Medal and Newbery Honor books respectively. She won her second Newbery Medal for "The View from Saturday," Her many acclaimed books include "Silent" "to the Bone," to which "The Outcasts of 19 Schuyler Place" is a companion novel. These titles are available on audio from Listening Library.
Praise For…
---
"An entertaining tale that has staying power."

-- School Library Journal, starred review