A Moveable Feast: The Restored Edition (Hardcover)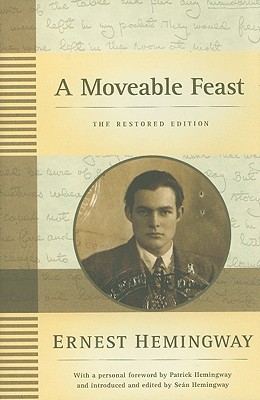 Description
---
Published for the first time as Ernest Hemingway intended, one of the great writer's most beloved and enduring works: his classic memoir of Paris in the 1920s.

Published  posthumously  in  1964,A  Moveable  Feast remains  one  of  Ernest  Hemingway's  most  beloved works.   Since   Hemingway's   personal   papers   were released  in  1979,  scholars  have  examined  and  debated  the changes made to the text before publication. Now, this spe- cial restored edition presents the original manuscript as the author intended it to be published.

Featuring a personal Foreword by Patrick Hemingway, Ernest's sole surviving son, and an Introduction by the editor and grandson of the author, Sean Hemingway, this new edi- tion also includes a number of unfinished, never-before-pub- lished Paris sketches revealing experiences that Hemingway had with his son, Jack, and his first wife Hadley. Also included are irreverent portraits of other literary luminaries, such as F. Scott Fitzgerald and Ford Maddox Ford, and insightful recollections of Hemingway's own early experiments with his craft.

Sure to excite critics and readers alike, the restored edition of A Moveable Feast brilliantly evokes the exuberant mood of Paris after World War I and the unbridled creativity and unquenchable enthusiasm that Hemingway himself epitomized.

 
About the Author
---
Ernest Hemingway was one of America s foremost journalists and authors. A winner of both the Pulitzer Prize (1953) and the Nobel Prize for Literature (1954), Hemingway is widely credited with driving a fundamental shift in prose writing in the early twentieth century. As an American expatriate in Paris in the 1920s, Ernest Hemingway achieved international fame with such literary works as The Sun Also Rises, The Old Man and the Sea, and For Whom the Bell Tolls, which depicts his experience as a correspondent during the Spanish Civil War. Hemingway died in 1961, leaving behind a rich literary legacy.

Sean Hemingway is Associate Curator in the Department of Greek and Roman Art at the Metropolitan Museum of Art in New York.

Ernest Hemingway (1899-1961), author of many classic works, including "The Sun Also Rises, A Farewell to Arms, For Whom the Bell Tolls, The Old Man and the Sea, Green Hills of Africa, The Garden of Eden," and "In Our Time," was awarded the Nobel Prize in Literature in 1954. Sean Hemingway and his wife, Colette, live in Brooklyn, New York. Patrick Hemingway and his wife, Carol, live in Bozeman, Montana.