Women Food and God: An Unexpected Path to Almost Everything (Paperback)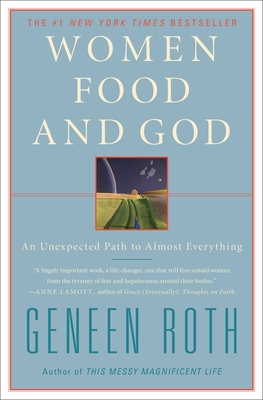 Description
---
Embraced by Oprah, the #1 "New York Times" bestselling guide that explains the connection between eating and emotion from Geneen Roth--noted authority on mindful eating.
"No matter how sophisticated or wealthy or broke or enlightened you are, how you eat tells all."
After three decades of studying, teaching, and writing about our compulsions with food, bestselling author Geneen Roth adds a powerful new dimension to her work in "Women Food and God." She begins with her most basic concept: the way you eat is inseparable from your core beliefs about being alive. Your relationship with food is an exact mirror of your feelings about love, fear, anger, meaning, transformation and, yes, even God.
A timeless and seminal work, "Women Food and God "shows how going beyond the food and the feelings takes you deeper into realms of spirit and soul--to the bright center of your own life.
About the Author
---
Geneen Roth is the author of eight books, including the "New York Times" bestselling "When Food is Love" and "The Craggy Hole in My Heart and the Cat Who Fixed It", a memoir. She has been teaching groundbreaking workshops and retreats for over thirty years. Roth is a contributor to many publications from "Huffington Post "and "Good Housekeeping "to "O: The Oprah Magazine, " and has appeared on numerous national shows including "Oprah, 20/20, Good Morning America, The View" and NPR's "Talk of the Nation" . She lives in northern California with her husband. For more information about her work, please visit www.geneenroth.com.
Praise For…
---
"Geneen Roth has written an extraordinary book - at once beautiful, moving, funny and searing. Most important, she gives us a practical way to use our bodies - along with some of the most difficult parts of our emotional lives - as gracious and transformative portals to our soul."
--Rick Foster, co-author of Happiness & Wealth and How We Choose to Be Happy



"Women Food and God is daring, dazzling, funny, comforting, wise and profoundly spiritual. It maps the journey from the darkness of obsession to the pure sense of being in prose so insightful and astonishing it left me breathless. Geneen Roth is an international treasure, and her new book is a gift to us all."
-- Gay Hendricks, Ph.D. author of Five Wishes and Conscious Loving



"Geneen Roth does it again! Women Food and God is absolutely mesmerizing. And loaded with insights which can change your life."
--Chistiane Northrup, MD, ob/gyn physician and author of Women's Bodies, Women's Wisdom and The Wisdom of Menopause



"This is a hugely important work, a life-changer, one that will free untold women from the tyranny of fear and hopelessness around their bodied. Beautifully written, a joy to read, rich in both revelation and great humor."
--Anne Lamott, author of Grace (Eventually): Thoughts on Faith