PLEASE NOTE
Books must show: IN STOCK at your desired location for same day pick-up in stores. We recommend calling stores that show low stock numbers.
The Golden Apples of the Sun and Other Stories (MP3 CD)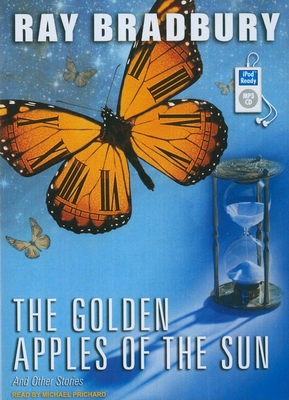 This Book Is Not Sold Online - In Store Special Order Only
Description
---
Ray Bradbury is a modern cultural treasure. His disarming simplicity of style underlies a towering body of work unmatched in metaphorical power by any other American storyteller. And here are thirty-two of his most famous tales-prime examples of the poignant and mysterious poetry that Bradbury uniquely uncovers in the depths of the human soul, the otherwordly portraits that spring from the canvas of one of the century's great men of imagination. From a lonely coastal lighthouse to a sixty-million-year-old safari, from the pouring rain of Venus to the ominous silence of a murder scene, Ray Bradbury is our sure-handed guide not only to surprising and outrageous manifestations of the future but also to the wonders of the present that we could never have imagined on our own.Track List for The Golden Apples of the Sun: Disc 1"The Fog Horn"-Track 1"The April Witch"-Track 8"The Wilderness"-Track 16"The Fruit at the Bottom of the Bowl"-Track 23Disc 2"The Flying Machine"-Track 6"The Murderer"-Track 10"The Golden Kite, the Silver Wind"-Track 17"I See You Never"-Track 21"Embroidery"-Track 24Disc 3"The Big Black and White Game"-Track 1"The Great Wide World Over There"-Track 9"Powerhouse"-Track 18Disc 4"En La Noche"-Track 1"Sun and Shadow"-Track 4"The Meadow"-Track 10"The Garbage Collector"-Track 22Disc 5"The Great Fire"-Track 1"The Golden Apples of the Sun"-Track 6"R Is for Rocket"-Track 12"The End of the Beginning"-Track 24Disc 6"The Rocket"-Track 1"The Rocket Man"-Track 9"A Sound of Thunder"-Track 18Disc 7"The Long Rain"-Track 3"The Exiles"-Track 13"Here There Be Tygers"-Track 24Disc 8"The Strawberry Window"-Track 10"The Dragon"-Track 18"Frost and Fire"-Track 20Disc 10"Uncle Einar"-Track 7"The Time Machine"-Track 14"The Sound of Summer Running"-Track 21.
About the Author
---
Ray Bradbury (1920-2012) was an American novelist, short story writer, essayist, playwright, screenwriter, and poet. Among his best-known works are The Martian Chronicles, The Illustrated Man, and Fahrenheit 451.

Michael Prichard has recorded well over five hundred audiobooks and was named one of SmartMoney magazine's Top Ten Golden Voices. His numerous awards and accolades include an Audie Award and several AudioFile Earphones Awards.