Death Is a Lonely Business (Abridged / Compact Disc)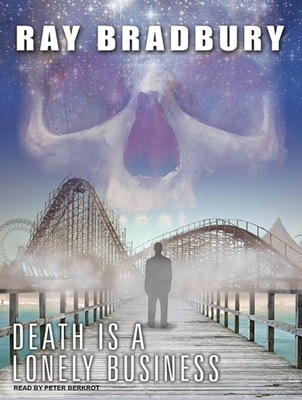 $34.99
Usually Ships in 1-5 Days
Description
---
Toiling away amid the looming palm trees and decaying bungalows, a struggling young writer (who bears a strong resemblance to Ray Bradbury himself) spins fantastic stories from his fertile imagination upon his clacking typewriter. Trying not to miss his girlfriend, who is away studying in Mexico, the nameless writer steadily crafts his literary efforts-until strange things begin happening around him. The writer first receives a series of peculiar phone calls, then finds clumps of seaweed on his doorstep. And, as the incidents escalate, his friends fall victim to a series of mysterious "accidents"-some of them fatal. Aided by Elmo Crumley, a savvy, street-smart detective, and a reclusive actress of yesteryear with an intense hunger for life, the wordsmith sets out to find the connection between the bizarre events and, in doing so, uncovers the truth about his own creative abilities.
About the Author
---
In a career spanning more than seventy years, Ray Bradbury, who died on June 5, 2011 at the age of 91, inspired generations of readers to dream, think, and create. A prolific author of hundreds of short stories and close to fifty books, as well as numerous poems, essays, operas, plays, teleplays, and screenplays, Bradbury was one of the most celebrated writers of our time. His groundbreaking works include Fahrenheit 451, The Martian Chronicles, The Illustrated Man, Dandelion Wine, and Something Wicked This Way Comes. He wrote the screen play for John Huston's classic film adaptation of Moby Dick, and was nominated for an Academy Award. He adapted sixty-five of his stories for television's The Ray Bradbury Theater, and won an Emmy for his teleplay of The Halloween Tree. He was the recipient of the 2000 National Book Foundation Medal for Distinguished Contribution to American Letters, the 2004 National Medal of Arts, and the 2007 Pulitzer Prize Special Citation, among many honors.
Throughout his life, Bradbury liked to recount the story of meeting a carnival magician, Mr. Electrico, in 1932. At the end of his performance Electrico reached out to the twelve-year-old Bradbury, touched the boy with his sword, and commanded, "Live forever!" Bradbury later said, "I decided that was the greatest idea I had ever heard. I started writing every day. I never stopped."
A veteran of stage and screen, Peter Berkrot's career spans four decades, and his voice can be heard on television, radio, video games, and documentaries. He has been nominated for an Audie Award and has received a number of AudioFile Earphones Awards and starred reviews.