Suite Francaise (Paperback)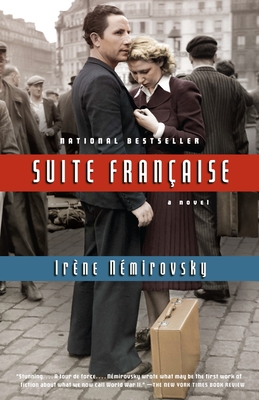 Description
---
Beginning in Paris on the eve of the Nazi occupation in 1940. Suite Française tells the remarkable story of men and women thrown together in circumstances beyond their control. As Parisians flee the city, human folly surfaces in every imaginable way: a wealthy mother searches for sweets in a town without food; a couple is terrified at the thought of losing their jobs, even as their world begins to fall apart. Moving on to a provincial village now occupied by German soldiers, the locals must learn to coexist with the enemy—in their town, their homes, even in their hearts.When Irène Némirovsky began working on Suite Française, she was already a highly successful writer living in Paris. But she was also a Jew, and in 1942 she was arrested and deported to Auschwitz, where she died. For sixty-four years, this novel remained hidden and unknown.
About the Author
---
Nee en 1903 a Kiev, Irene Nemirovsky connait le succesdes son premier roman, David Golder (1929), puis avec LeBal (1930). En juin 1940, elle se refugie dans un village duMorvan avant d etre arretee par les gendarmes francais, puis assassinee a Auschwitz, l ete 1942. Agee de treizeans, sa fille ainee, Denise, emporte dans sa fuite une valisecontenant une relique douloureuse: le manuscrit ultime desa mere, Suite francaise, inedit jusqu en 2004, qui obtint atitre posthume le prix Renaudot.

Sandra Smith is the translator of all twelve novels by Irene Nemirovsky; a new translation of Camus L Etranger (The Outsider, Penguin UK); and The Necklace and Other Stories: Maupassant for Modern Times (Liveright). Her translation of Nemirovsky s Suite Francaise won the French-American Foundation and Florence Gould Foundation Translation Prize for Fiction, as well as the PEN Book-of-the-Month Club Translation Prize. After ten years as a Fellow of Robinson College, Cambridge, Smith now lives in New York.
Praise For…
---
"Stunning. . . . A tour de force." —The New York Times Book Review"Remarkable." —Newsweek"[Némirovsky] sees the fullness of humanity. . . . A lost masterpiece." —O, the Oprah Magazine"Gripping. . . . Brilliant. . . . Endlessly fascinating." —The Nation"Transcendent, astonishing. . . . The last great fiction of the war." —The Pittsburgh Post-Gazette"Superb." —The Washington Post Book World"Extraordinary. . . . A work of Proustian scope and delicacy, by turns funny and deeply moving." —Time