Wonder of Wonders: A Cultural History of Fiddler on the Roof (Paperback)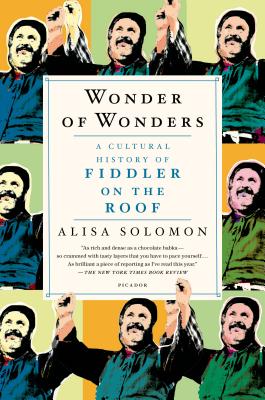 $22.00
Usually Ships in 1-5 Days
Description
---
In the half-century since its premiere, "Fiddler on the Roof" has become a supremely potent cultural landmark, beloved by audiences the world over. Now, in a history as captivating as its subject, award-winning drama critic Alisa Solomon traces how and why the story of Tevye the milkman, the creation of the great Yiddish writer Sholem-Aleichem, was reborn as blockbuster entertainment and a cultural touchstone, not only for Jews and not only in America.
It is first a story of the theater, as Solomon follows Tevye from his humble appearance on the New York Yiddish stage, through his adoption by leftist dramatists as a symbol of oppression, to his Broadway debut and his starring role in a major Hollywood picture. And it is a cultural story, of a show that spoke to the deepest conflicts and desires the world over: the fraying of tradition, generational tension, the loss of roots. Entertaining and original, "Wonder of Wonders" reveals the profound legacy of a show about tradition that itself became a tradition.
About the Author
---
Alisa Solomon teaches at Columbia University's Graduate School of Journalism, where she directs the Arts & Culture concentration in the MA program. A theater critic and general reporter for "The Village Voice" from 1983 to 2004, she has also contributed to "The New York Times," " The Nation," "Tablet," "The Forward," and other publications. Her first book, "Re-Dressing the Canon: Essays on Theater and Gender," won the George Jean Nathan Award for Dramatic Criticism. She lives in New York City.