The Pickup (Paperback)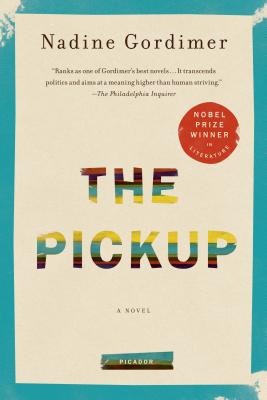 Description
---
A "New York Times" Notable Book
Winner of the Commonwealth Writers' Prize for Africa
"Ranks as one of Gordimer's best novels It transcends politics and aims at a meaning higher than human striving."---"The Philadelphia Inquirer"
When Julie Summers's car breaks down on a street in Cape Town, a young Arab mechanic comes to her aid. Their attraction to each other is immediate. Julia, the daughter of a powerful businessman, is trying to escape a privileged background she despises. Abdu, an educated but poor illegal immigrant, is desperate to evade deportation. The consequences of this chance meeting are unpredictable and intense, as each person's notions of the other are overturned. Set in the social mix of post-apartheid South Africa and an unnamed Arab country, Nadine Gordimer's "The Pickup" "is a masterpiece of creative empathy...a gripping tale of contemporary anguish and unexpected desire, and it also opens the Arab world to unusually nuanced perception" (Edward W. Said).
About the Author
---
Nadine Gordimer (1923 2014), the recipient of the 1991 Nobel Prize in Literature, was born in a small South African town. Her first book, a collection of stories, was published when she was in her early twenties. Her ten books of stories include "Something Out There "(1984), and "Jump and Other Stories" (1991). Her novels include "The Lying Days" (1953), "A World of Strangers" (1958), "Occasion for Loving" (1963), "The Late Bourgeois World "(1966), "A Guest of Honour" (1971), "The Conservationist" (1975), "Burger's Daughter" (1979), "July's People" (1981), "A Sport of Nature" (1987), "My Son's Story" (1990), "None to Accompany Me" (1994), "The House Gun" (1998), "The Pickup" (2001), "Get a Life" (2005), and "No Time Like the Present "(2012). "A World of Strangers," " The Late Bourgeois World," and "Burger's Daughter" were originally banned in South Africa. She published three books of literary and political essays: "The Essential Gesture" (1988); "Writing and Being" (1995), the Charles Eliot Norton Lectures she gave at Harvard in 1994; and "Living in Hope and History" (1999).Ms. Gordimer was a vice president of PEN International and an executive member of the Congress of South African Writers. She was a fellow of the Royal Society of Literature in Great Britain and an honorary member of both the American Academy of Arts and Letters and the American Academy of Arts and Sciences. She was also a Commandeur de'Ordre des Arts et des Lettres (France). She held fourteen honorary degrees from universities including Harvard, Yale, Smith College, the New School for Social Research, City College of New York, the University of Leuven in Belgium, Oxford University, and Cambridge University.Ms. Gordimer won numerous literary awards, including the Booker Prize for "The Conservationist," both internationally and in South Africa."
Praise For…
---
"Astonishing...It is hard to conceive of a more sympathetic, more intimate introduction to the lives of ordinary Muslims than we are given here."---J. M. Coetzee, The New York Review of Books "This is surely what art has at its highest octane done: attempts to push its way around the ineffable, to get inside others' heads, to cross the many boundaries that so terminally and tragically divide us."---The Washington Post Book World "Gordimer plays the lovers off of one another expertly….She explores the problems of dispossession with characteristic subtlety."---The New Yorker "Ms. Gordimer's ability to delineate the psychological consequences of exile, class, disaffection, and racial prejudice enables her to lend Julie and [Ibrahim's] relationship an unusual poignancy and depth."---Michiko Kakutani, The New York Times  "Brilliant…Gordimer's stark sentences and emotional depth make most modern fiction seem trivial."---The Times (London)