Uses for Boys (Paperback)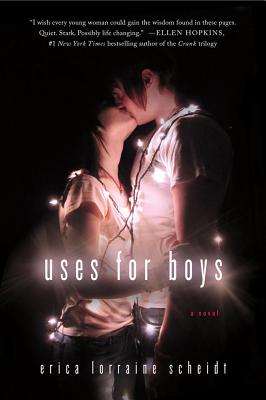 $10.99
Usually Ships in 1-5 Days
Staff Reviews
---
Anna grew up with the story that when she came along,
her mom wasn't alone anyone. She was her mom's world, her "five-pointed star",
but that wasn't enough for her mom. She wasn't enough. Her mom starts dating and
along come a string of boyfriends and husbands that flutter in and out of Anna's
life. Soon, it's just her alone in the empty house. To fill the loneliness, Anna
turns to boys thinking that if she gives boys what they want, they can give her
what she needs. Companionship. Company. Affection. This 240 page book is not
light, contrary to looks. Sexuality, rape, abortion are some of the issues that
show up in the story. However, this book never dissolves into an "issues" book -
not once while I was reading the book felt like I was being bashed over the head
with a point. Rather, the entire focus of the story is Anna. It's her story. And
Anna....I felt for her so much. I just wanted to spirited her away or at least
give her a million hugs of affection. The things that she endured and the lack
of positive, loving adult presence in her life breaks my heart. But the thing
that drives home Anna's story is Scheidt's prose. It's frank, sparse and
lyrical. She doesn't hold back in her words, but she's not
overly descriptive either. The words are just so. Raw. honest and wonderfully
written.
— Connie, Books Inc. Opera Plaza
Description
---
Anna remembers a time before boys, when she was little and everything made sense. When she and her mom were a family, just the two of them against the world. But now her mom is gone most of the time, chasing the next marriage, brining home the next stepfather. Anna is left on her own until she discovers that she can make boys her family. From Desmond to Joey, Todd to Sam, Anna learns that if you give boys what they want, you can get what you need. But the price is high the other kids make fun of her; the girls call her a slut. Anna's new friend, Toy, seems to have found a way around the loneliness, but Toy has her own secrets that even Anna can't know.
Then comes Sam. When Anna actually meets a boy who is more than just useful, whose family eats dinner together, laughs, and tells stories, the truth about love becomes clear. And she finally learns how it feels to have something to lose and something to offer. Real, shocking, uplifting, and stunningly lyrical, "Uses for Boys" by Erica Lorraine Scheidt is a story of breaking down and growing up.
About the Author
---
Erica Lorraine Scheidt studied writing at the Jack Kerouac School of Disembodied Poetics at Naropa University and later received an MA in creative writing from the University of California, Davis. Now a teaching artist and longtime volunteer at 826 Valencia, she lives in Berkeley, California, and is at work on a second novel.
Praise For…
---
 "I wish every young woman could gain the wisdom found in these pages. Quiet. Stark. Possibly life changing." – Ellen Hopkins, #1 New York Times Bestselling author of the Crank trilogy

"Many girls will relate to the fact that 'there are no fathers in this story'… Scheidt's spare and poetic debut offers up pretty images for some decidedly unpretty situations ('the unmade bed is peaked and stormy'); at times, her prose feels as tightly wrought as a novel in verse. This is a story about where we come from, and how, sometimes, we have to break free from the past in order to shape our own future... Lots of teens will see themselves in the pages of this beautiful, honest novel."—Booklist (Starred Review)

"Like its narrator, Uses for Boys is poetic, sensual, edgy and strong.  Captivated, I finished it in two sittings and sobbed at the end."—Francesca Lia Block, New York Times bestselling author of Weetzie Bat and I was a Teenage Fairy

"If somebody had handed me this book when I was fifteen, I would have felt 75% less alone and 100% less crazy."—Pam Houston, award-winning author of Cowboys Are My Weakness and Contents May Have Shifted

"Some writers know how to make something terribly complicated and true...simple. That's what Erica Lorraine Scheidt does in Uses for Boys. With stark, lucid prose, she hones in on that experience we girls know well: we believe boys will fill our emptiness."—Kerry Cohen, author of Loose Girl