PLEASE NOTE
Books must show: IN STOCK at your desired location for same day pick-up in stores. We recommend calling stores that show low stock numbers.
Skim (Paperback)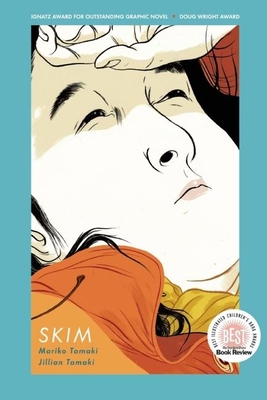 $12.95
In Stock - See Store Locations Below
Description
---
"Skim" is Kimberly Keiko Cameron, a not-slim, would-be Wiccan goth who goes to a private girls' school in the early '90s. When her classmate Katie Matthews is dumped by her boyfriend, who then kills himself possibly because he's (maybe) gay the entire school goes into mourning overdrive. It's a weird time to fall in love, but that's what happens to Skim when she starts meeting secretly with her neo-hippie English teacher, Ms. Archer. But then Ms. Archer abruptly leaves the school, and Skim has to cope with her confusion and isolation while her best friend, Lisa, tries to pull her into "real" life by setting up a hilarious double-date for the school's semi formal. Suicide, depression, love, homosexuality, crushes, cliques of popular, manipulative peers the whole gamut of teen life is explored in this poignant glimpse into the heartache of being 16.
About the Author
---
Mariko Tamaki is a Canadian writer. Her works include the graphic novels "This One Summer" (Printz Honor and Caldecott Honor Book) and "Skim", both with Jillian Tamaki, and "Emiko Superstar "(DC Comics), with Steve Rolston. Her first YA novel"(You) Set Me on Fire" was published by Penguin Canada. Mariko lives in Oakland, California. marikotamaki.blogspot.com.

Jillian Tamaki is a Canadian illustrator and comics artist living in Toronto, Ontario. She is the creator of two books of personal works ("Skim "and" This One Summer", with Mariko Tamaki) and the ongoing webcomic, "SuperMutant Magic Academy".