Water by the Spoonful (Paperback)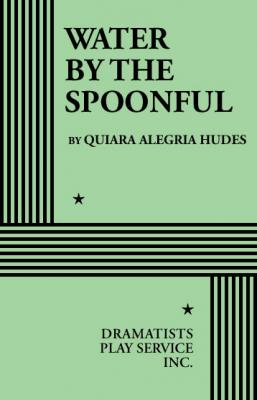 This Book Is Not Sold Online - In Store Special Order Only
Description
---
Full Length Play/Drama
4 men, 3 women: 7 total

Flexible Set
Winner of the 2012 Pulitzer Prize.
Somewhere in Philadelphia, Elliot has returned from Iraq and is struggling to find his place in the world. Somewhere in a chat room, recovering addicts keep each other alive, hour by hour, day by day. The boundaries of family and community are stretched across continents and cyberspace as birth families splinter and online families collide. WATER BY THE SPOONFUL is a heartfelt meditation on lives on the brink of redemption.
"A complete and satisfying work…A quartet of wounded yet fiercely bright characters who are trying to stay sober communicate over the internet. Those who feel the web is a cold connection may change their opinion after they see the very hot limbo in which these characters live and interact…This is a very funny, warm, and, yes, uplifting play with characters that are vivid, vital, and who stay with you long after the play is over." —The Hartford Courant.
"Quiara Alegría Hudes is a blazing talent…Her new play, WATER BY THE SPOONFUL, blazes with promise. Non-linear and fascinating, it is not easily followed but definitely worthy of both close attention and ultimate praise…Provocative and brimming with life." —Talkin' Broadway.
"All the characters in Quiara Alegría Hudes' compassionate follow-up to Elliot, A Soldier's Fugue (a Pulitzer finalist) are seeking a kind of visa—one that will allow them to make it to a safe haven in a messed-up world. Everyone in the play is living day to day—or spoonful by spoonful, to echo Hudes' poignant metaphor—enabled, hindered, and supported by an ever-interrelated reach of family and friends. The play is a combination poem, prayer and app on how to cope in an age of uncertainty, speed and chaos. When cyber meets the real world, anger gives way to forgiveness and resistance becomes redemption; the heart of the play opens up and the waters flow freely." —Variety.
About the Author
---
Quiara Alegria Hudes is the author of the Pulitzer Prize-winning "Water by the Spoonful," the Tony Award-winning musical "In the Heights" and the Pulitzer Prize finalist "Elliot, A Soldier's Fugue." Her other works include "Barrio Grrrl!," a children's musical; "26 Miles"; "Yemaya's Belly" and "The Happiest Song Plays Last," the third piece in her acclaimed trilogy.